Learn how to host the perfect at-home sake tasting party with HEAVENSAKE. Expand your palate and knowledge about sake notes, sake tasting kits, and virtual sake tasting to make the experience feel luxurious and fun.
PIN ME for later
At Home Sake Tasting Party Step by Step
*Disclaimer: Some links on AsianaCircus.com are affiliate links. If you click through and make a purchase we may receive a small commission (at no additional cost to you).
Are you ready to hos an epic sake tasting party? Then read on because we and our partner HEAVENSAKE are here to help you learn more about sake and sake tasting. No matter if you're planning a big party with friends and family or a romantic date night with your partner because thanks to our quick sake tasting guide you'll learn how to taste sake like a pro in no time.
RELATED: Unique Sake Sets From Japan & Sake Drinking Guide
Explore the uniqueness of HEAVENSAKE and learn about virtual sake tasting and free sake tasting courses you can take online in the comfort of your own home. Thanks to detailed step-by-step guidance you'll be able to enjoy sake and tasting events on a whole new level even if you're a beginner when it comes to sake or Japanese drinking culture.
We also included information that will help you choose the right food, snacks, and sake set not just for your sake tasting parties but for more private events or when you want to enjoy a fine drink alone to relax and rewind. If you love unique themed parties and experiences you'll love throwing your won luxurious sake tasting party at home.
About HEAVENSAKE
HEAVENSAKE was founded in 2016 and introduced to the U.S. market in 2017. HEAVENSAKE is an award-winning collection of five heavenly smooth premium sakes and was a "BEST SAKE" winner at the San Francisco IWC in 2019 and 2020.
All of their award-winning sakes are handcrafted and produced in Japan and celebrates the union between the traditional art of Japanese sake-making and Champagne assemblage techniques. Which makes their sakes the perfectly unique and luxurious choice for your at-home sake tasting party.
What makes this brand one of a kind is the fact that this was the first Franco-Japanese collaboration in the sake world, co-founded by acclaimed French Chef de Cave, Régis Camus.
HEAVENSAKE's four expressions are all of the prestigious Junmai sake class, which translates to "PURE" in Japanese, with 2x JUNMAI DAIGINJO, 2x JUNMAI GINGO and their unique creation "JUNMAI 12" a 12% Low ABV/Low Calories sake with 25% less alcohol and 25% calories than normal Junmai sakes.
Award-winning Sake & Creators
Camus is an eight-time winner of the prestigious "WINEMAKER OF THE YEAR" award at the INTERNATIONAL WINE CHALLENGE, the world's finest and most meticulously judged wine competition. In contrast to traditional batched sakes, Camus' vision brings his expertise in the art of blending Champagne vintages to HEAVENSAKE.
The sakes' unparalleled smoothness comes from Regis's skillful assemblage, blending different sakes from the partner brewery. Working closely with the Tojis (sake brewmasters), Regis created five expressions that all meet the highest standards of balance, purity, and refinement to reflect the meaning of Junmai. The four HEAVENSAKE breweries are amongst Japan's most respected: Dassai, Urakasumi, Konishi, and Hakushika.
What food should you serve with HEAVENSAKE during your at-home sake tasting party?
Extremely food-friendly and envisioned to be enjoyed at any time of the day – much like a glass of wine or a good fresh beer – HEAVENSAKE is made of only three ingredients: rice, water, koji for fermentation, a process similar to that of beer brewing.
Each expression is meant to be enjoyed chilled and served in a wine glass. The distinct blends are all-natural, created with no distilled alcohol or added sugar, sulfite-, gluten-, and additive-free, and are three times less acidic than wine. Given these qualities, HEAVENSAKE is the ideal drink for any bon-vivant looking for "A BETTER HIGH " (The mission of HEAVENSAKE, remaining sharp even after a playful time.).
Luxury Sake From Japan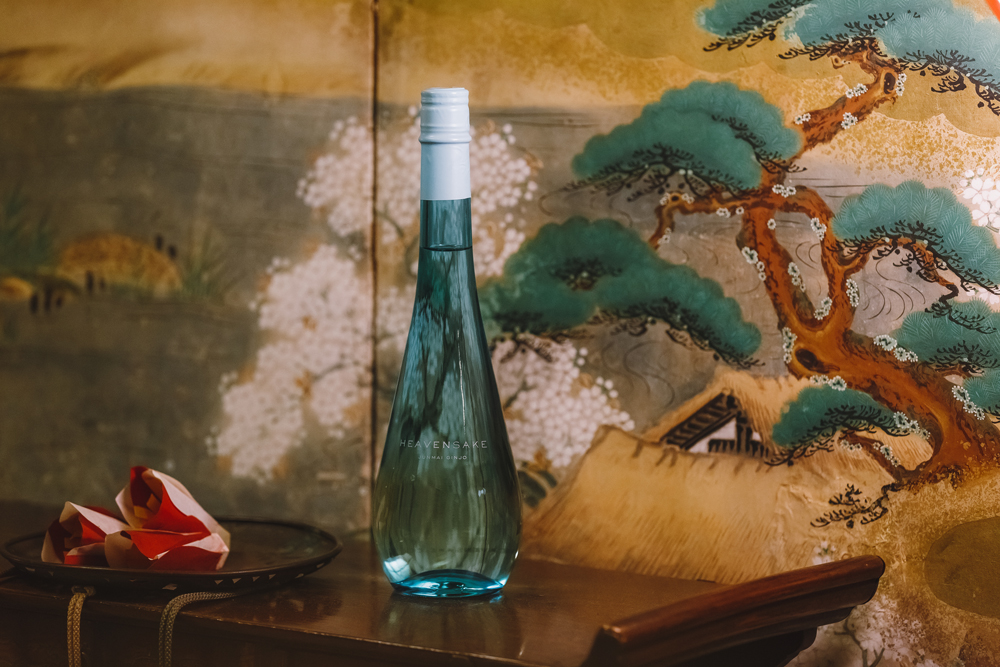 From the sake to the bottle itself, everything is produced in Japan. The distinct, proprietary shape of the HEAVENSAKE bottle took nearly 18 months to design and was born from the challenge of finding a shape that respected the traditionally understated elegance of Japanese culture while expressing the brand's modern personality. The result is a vessel that evokes the purity of water, champagne's character, and the timelessness of wine – life in a drop.
The HEAVENSAKE logo (RAKKAN) is a reference to the brand's Franco-Japanese heritage: The hexagonal shape represents France due to the country's six-sided shape, while the interior lines are inspired by Japanese kanji (calligraphy), creating three hexagons to represent water, rice, and koji – the three main ingredients that produce sake.
Who else loves HEAVENSAKE?
Beloved by notable cultural icons and celebrities including, Neil Patrick Harris, Dita Von Teese, A$AP Rocky, Irina Shayk, or Emily Ratajowski, HEAVENSAKE is easily found at acclaimed restaurants and hotels across the U.S., including MASA, Sushi Nakazawa, Gjelina, The Setai, PLANTA, Casa Faena, O Ya, Sushi by Bou and many more. You can, of course, visit the HEAVENSAKE online shop and order your new favorite sake and get it delivered to your door.
Why choose HEAVENSAKE for your at-home sake tasting party?
HEAVENSAKE is not only an excellent choice for your at-home sake tasting party because it's of excellent quality but also because of the brilliant and free information and guides you can find on their website next to every single one of their sakes. Never hosted a sake party? Don't know what tasting notes you should be looking for? How about the serving temperature, recommended servings, and characteristics?
Don't worry because you'll find all the necessary information and more all in one place so you'll just have to fill out your tasting cards.
About HEAVENSAKE Sakes
HEAVENSAKE JUNMAI DAIGINJO
Dassai Brewery (founded in 1890): Located in the Yamaguchi prefecture, Dassai has been brewing sake for 200 years and is renowned for only making Junmai Daiginjo using highly milled Yamana Nishiki rice.
HEAVENSAKE Junmai Daiginjo begins with delicate floral, grape, apple, and lush tropical fruit on the nose. The palate is vibrant, rich, and aromatic with flavors of early summer pears, wild red berries, and muscat grapes.
What food to serve with HEAVENSAKE Junmai Daiginjo?
Recommended pairings: uni, lobster, pata negia iberico ham, Parmigiano Reggiano, ingredients with strong Unami, tiramisu, chocolate fondant, crème brûlée.
To Camus, Daiginjo is like walking into a magnificent Japanese palace with a sense of joy and refinement.
MSRP for 1 bottle: $84.99 | 720ML | ABV: 16%  – SHOP NOW
---
HEAVENSAKE JUNMAI GINJO
Urakasumi Brewery: Located in the Miyagi prefecture, founded in 1724, Urakasumi has provided the sacred sake for the Shiogama Shrine. The 13th generation of the Saura family manages the brewery.
On the nose are notes of lemon peel, cocoa, and crème brûlée, accompanied by a crisp, light, and refreshing palate with honeycomb, nougat, and white raisin.
What food to serve with HEAVENSAKE Junmai Ginjo?
Recommended pairings: ceviche, raw oysters, tuna tartare, arctic char, sashimi, sushi, green salads, tempura vegetables, lightly spicy food, chicken.
For Camus, Ginjo is like the first day of Spring with its warm rays of sunshine.
MSRP for 1 bottle: $39.99 | 720ML | ABV: 15% – SHOP NOW
---
HEAVENSAKE Junami 12
Konishi Brewery: Located in the Hyogo Prefecture, Hakushika is the oldest single-family brewery dating back to 1550. The 16th generation of the family is managing the business with Akiko Konishi as their first female CEO.
The nose offers rich notes of salted caramel, cacao, kumquat, and almond, followed by a round palate, dry to off-dry, and pleasing pastry notes with a bright, fresh finish.
What food to serve with HEAVENSAKE Junami 12?
Recommended pairings include ceviche, raw oysters, tuna tartare, poached fish, shrimp cocktails, sashimi, Margherita pizza, burgers, New York strip steaks. According to Camus, Junmai 12 is inspired by the rosés of Provence and the lightness of champagne – elegant and easy on the palate.
For Camus, Ginjo is like the first day of Spring with its warm rays of sunshine.
MSRP for 1 bottle: $29.99 | 720ML | ABV: 12.5% – SHOP NOW
How do you host a sake tasting party at home?
First, comes first, are you someone who already knows a lot about sake and sake drinking and just looking for a few great ideas and unique sakes for their party, or are you a beginner who wants to learn more about sake? Either way, you'll find here some great ideas to spice up your sake tasting party or get started with your learning journey.
Learn about sake and sake tasting at home with a quick sake online course created by a professional. Carlos Batista's All About Japanese Sake course covers all the necessary information you need to host your own sake tasting party. You'll learn how to taste sake, serve it, all the different styles, flavors, and many more interesting and crucial things about sake. Thanks to SkillShare you can join for free and enjoy taking as many courses as you like during that time period and keep or cancel your subscription any time you like.
Virtual Sake Tasting
You can also try out a virtual sake tasting experience. Learn about Japanese drinking culture, sake, and the best dishes you can try during your sake tasting party. You can go on a virtual sake tasting experience before your party to learn and practice. Or you can book a virtual sake tasting experience for the whole group and personalize your experience together and learn together from a Japanese sake expert.
Two of the best virtual sake tasting experiences:
Virtual Private Lessons About Sake – BOOK HERE
Learn Japanese Sake and Izakaya Drinking Culture Virtually – BOOK HERE
Sake Tasting Kits
The two things you need to create your own sake tasting kit are a great quality sake, printable tasting cards, and a sake set. You can also consider getting some great quality and unique Japanese snacks from Bokksu. You can order unique and delicious snacks from Japan handmade by some of the best dessert masters of Japan. You'll also get guides and extra information about each snack so you can be sure to match it with the right sake.
If you're planning on hosting multiple sake tasting parties or just generally like to enjoy sake at home get a sake set that allows you to serve both hot and cold sakes like this beautiful glass sake carafe set.
It's an elegant choice and comes with 6 glasses so it's perfect for romantic date nights as well as bigger sake tasting parties with friends and family.
PIN ME for later
THANK YOU FOR READING!