Last Updated on October 31, 2022 by Jella Erhard
Vienna to Budapest to Prague by Train Itinerary
Are you planning a trip from Vienna to Budapest to Prague by train and need some inspiration on how to plan your itinerary?
Here you'll find a detailed guide on how to travel from Vienna to Budapest to Prague by train with one-day itineraries to all three cities. Learn what to see, where to stay, & where to eat while visiting these beautiful central European capitals.
Find information about sightseeing in Vienna and Budapest along with Prague. We also collected some of the places to eat and stay in these beautiful cities.
Thanks to the extensive rail network it is becoming more and more affordable and enjoyable to travel Europe by train. In some cases, it is even quicker than taking a flight.
Let's take a look at a fun 3-day itinerary in central Europe.
How to travel from Vienna to Budapest to Prague by train?
You can travel Europe with a train pass much easier than before, there are regular trains between these fantastic capitals. So dive into your busy itinerary for Prague, Vienna, and Budapest.
All of them deserve more than a day, but if you are short on time, we collected the must-sees and must-dos for a day visit.
Vienna to Budapest to Prague by Train Itinerary
*Disclaimer: Some links on AsianaCircus.com are affiliate links. If you click through and make a purchase we may receive a small commission (at no additional cost to you). Thank you for your support, you're awesome! =)
Here are some of the best things to do in Vienna in 1 day, if you find the program a bit too busy, you can cross off something you don't find interesting.
What to see in Vienna in one day?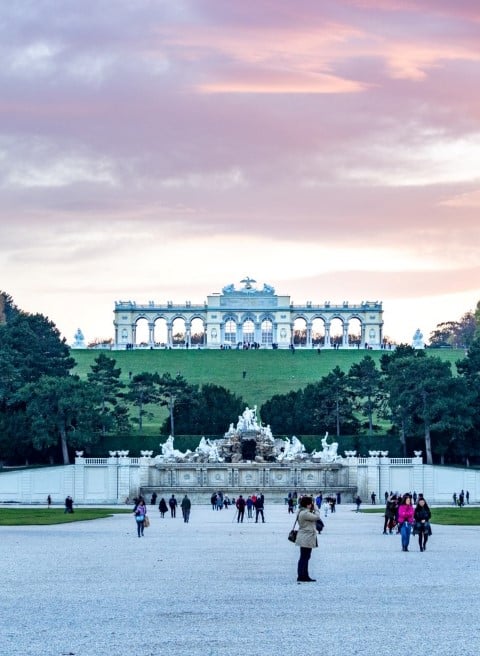 Start your one day Vienna itinerary with the most popular tourist attraction in the city. The Schönbrunn Palace used to serve as the summer residence of the Habsburg rulers.
It boasts over 1400 rooms, each with breathtaking art and luxurious furniture. The palace was built in the 1750s by empress Maria Theresa to gain its present form.
There are regular concerts held in the palace, so in case you decide to stay overnight, you can enjoy the best works of Mozart and Strauss.
Schönbrunn Palace concerts are held every night and tickets start at €45 ($50). Schönbrunn Palace entry fee starts at €16 ($17.50).
You can also explore the lush gardens while visiting.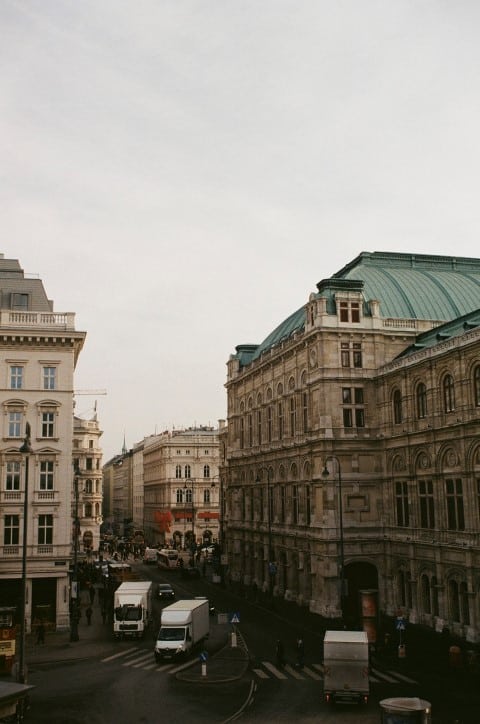 Your next stop is the majestic Vienna State Opera in the center. This renaissance-style building has a capacity of over 1700 people.
It is not only the building you can enjoy but the surroundings as there are beautiful historic streets and colorful gardens in the neighborhood.
This area is among the places to visit if you want to get a good feel of the city's vibe.
The Hofburg
During your walk around in the beautiful streets of downtown Vienna, you will come across an enormous palace.
The Hofburg's main building was completed in the 13th century and it is just beautiful. This remarkable building is the workplace of Austria's prime minister.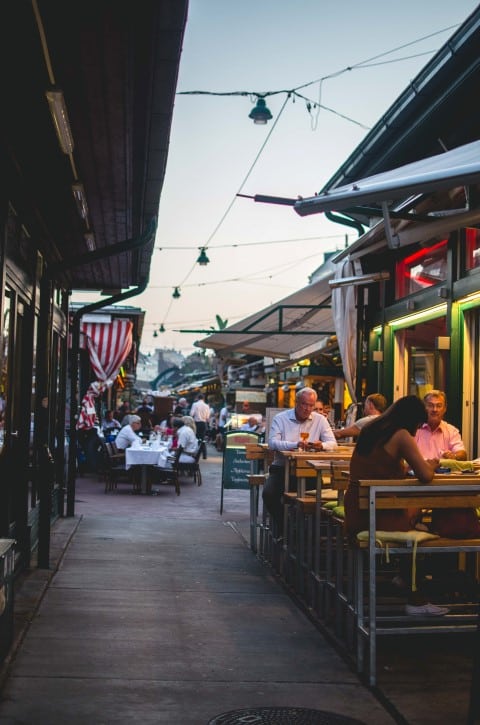 A ten-minute walk from Karlsplatz you can explore Naschmarkt, a large market offering fresh local products in Vienna.
If you would like to really get to know a city, visit its market and see what locals eat. It is a nice walk while buying some delicious bites and souvenirs.
2| Hundertwasser House and Village
By metro line U4 you can get to Hundertwasser House and Village in 15 minutes. Prepare your phones and cameras as you won't be able to stop taking photos of the colorful, mosaic building that is now the home of many locals.
The famous artist and environmentalist Friedrich Hundertwasser (born Friedrich Stowasser) had become a notable architectural designer in the late 20th century. You can find designs by him in Japan, the USA and Germany as well.
Not far from the colorful building you can find Hundertwasser Village, which is an old factory turned into a quaint place with cafes and shops. Don't miss the forest on the rooftop.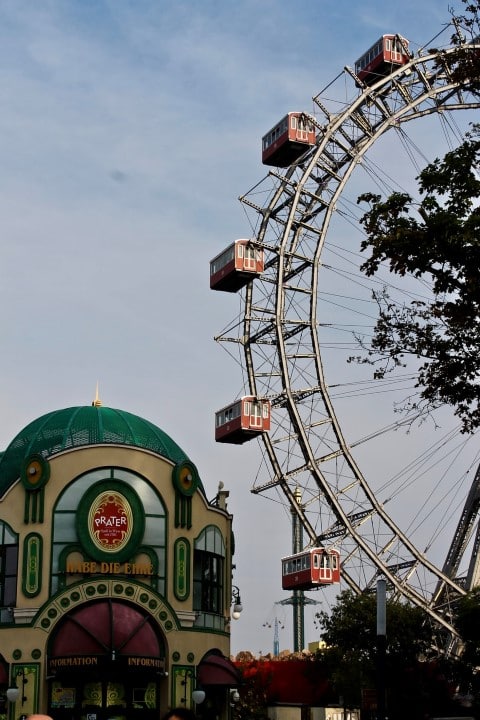 The last stop is Prater, a lively public park with an amusement park for fun lovers of all ages.
Cross the Danube canal and you are all set for some fun, it is a great spot for couples and families as well in Vienna.
You can also find a giant Ferris wheel to enjoy a breathtaking view from up above.
Prater opening times: weekdays 12 pm to 10 pm, Fridays 11:30 am to 10:30 pm, Saturdays 11 am to 11 pm and Sundays 11 am to 10 pm.
The Viennese Ferris wheel costs €12 ($13) and most of the rides are around €5 ($5.50).
If you have come to the decision of staying for a night, you can find some great value places to stay in Vienna. There are many great hotels in the city, prices usually start at around $70/night.
2| Austria Trend Hotel Savoyen Vienna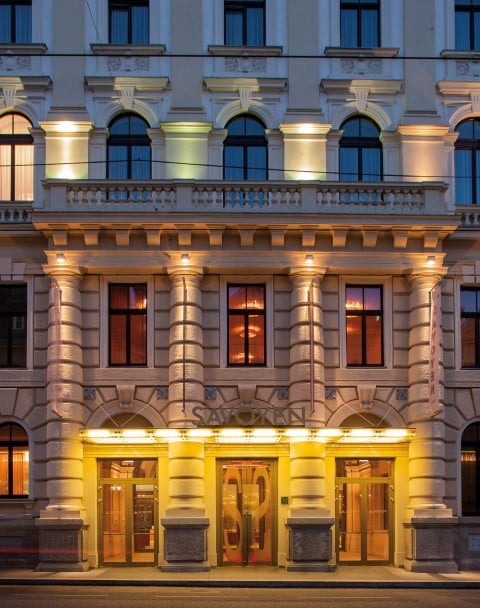 Savoyen is located right next to the picturesque Belvedere Palace, a 15-minute ride away from downtown Vienna. It is a classical high-end hotel in the affordable range.
Nightly prices start at around $100/night and it has rooms for families too. The neighborhood is great for romantic walks and there are plenty of nice restaurants as well.
During your eventful visit to Austria's capital, you shouldn't miss some of the best Vienna restaurants to taste authentic flavors.
We have also picked a recommendation for vegetarian travelers, to make sure no one is left out of the culinary pleasures.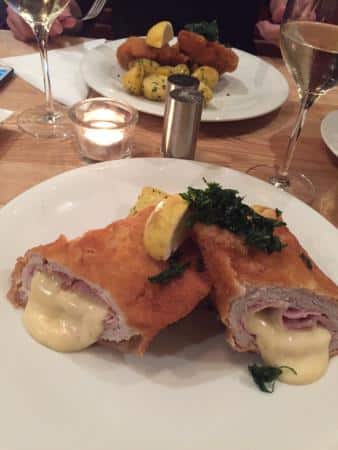 If you would like to experience typical Viennese cuisine, then Sixta is a great choice. They serve a large variety of quality dishes at a reasonable price.
Their traditional dishes with a modern twist certainly are worthy of a lunch break visit.
It is found just a few minutes away from Naschmarkt, so it is an ideal breaking spot during your 1 day Vienna itinerary.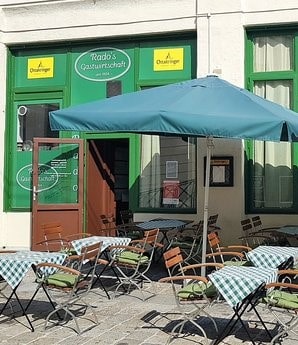 A bit outside of downtown Vienna, about 15 minutes away from The Hofburg, you can try the typical Viennese cuisine in the good old fashioned way.
The checkered tablecloth and beer served in porcelain jugs will take you back in time. The time travel is going to be very delicious as Rado's Gastwirtschaft is one of the best places to eat in Vienna.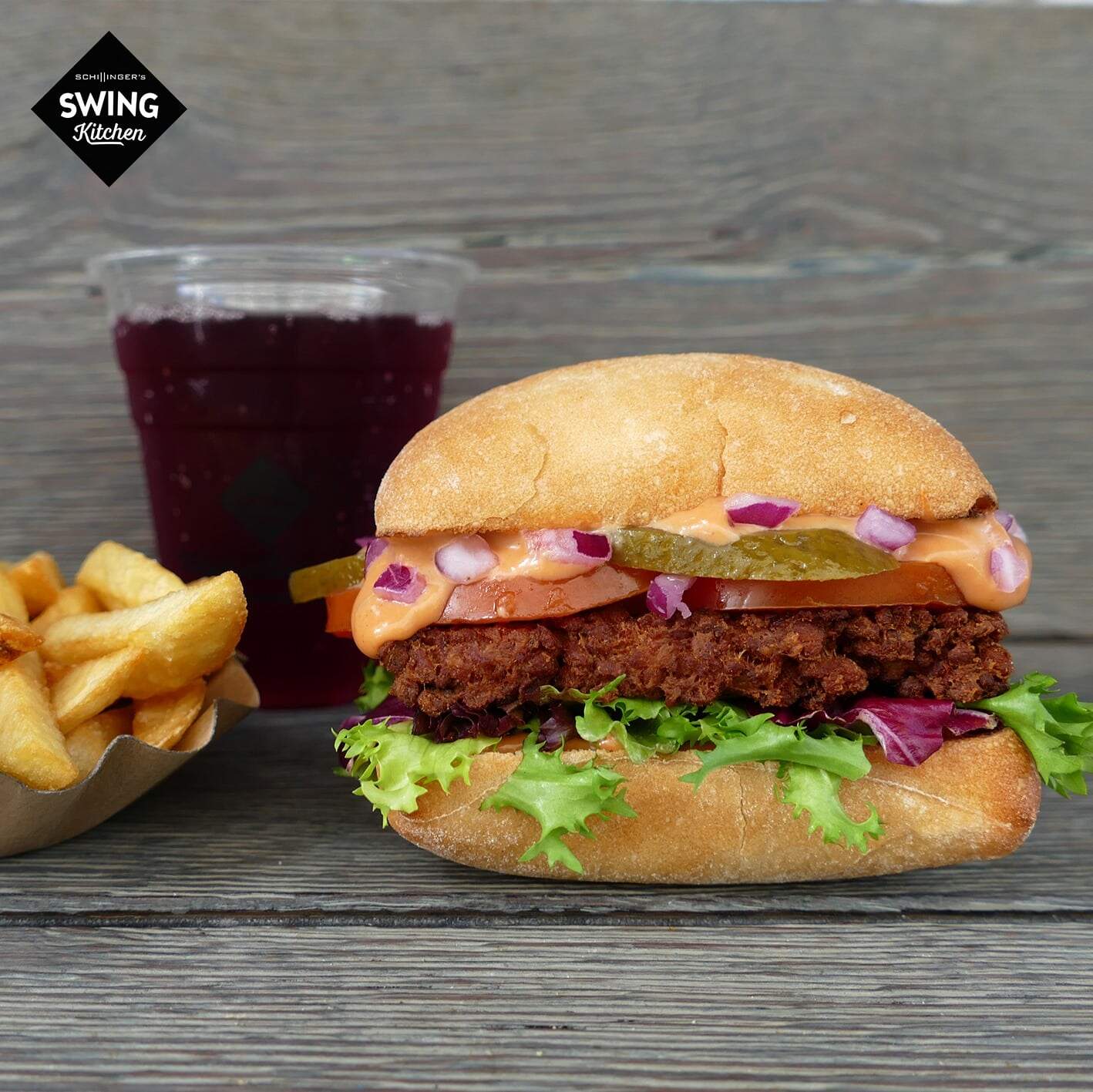 Even if you are not vegetarian or vegan, Swing kitchen has to be tried. You can eat delicious Viennese dishes that are all vegan.
Once you tasted their scrumptious burgers and desserts, you are quickly going to fall in love with Swing Kitchen. It is understandable how they have five locations in the city already.
What makes it really great is the fact that you don't have to give up on the traditional tastes while eating completely plant based meals. The owners are dedicated to sustainability and cruelty free living.
From Vienna to Budapest by Train
Once your sightseeing itinerary is completed, it is time to travel from Vienna to Budapest by train on a considerably scenic ride. On the way over you can see some lovely and charming green Austrian and Hungarian places.
How long does it take to get from Vienna to Budapest by train?
It is a fairly smooth ride, if let's say you have a week booked in the Austrian capital, you could even take a Vienna to Budapest day trip as the train time is about 2,5 hours.
From Vienna to Budapest train tickets – where to buy them & how much do they cost
You can find direct trains departing every hour, so it doesn't take much planning to get from Vienna to Budapest by train.
You can find train tickets from Vienna to Budapest from $10. In some cases and seasons even cheaper. The trains run about every half an hour so you don't have to worry about finding a ticket.
From Vienna to Budapest train schedule
Trains depart every hour so you can easily catch the train you want.
Budapest itinerary – 1 day
In case you left quite early, you have nearly a full day to enjoy in Hungary's capital. Since the distance from Vienna to Budapest is less than 250 km, you won't get too exhausted from traveling.
There are a number of things you ought to see, however, if you feel it is a bit too much in a day, you are welcome to leave some stops out.
We have gathered a few of the best places to visit and eat in Budapest for you. You will be arriving at Keleti Palyaudvar (East railway station), which is only a few minutes from the touristy places.
What to see in Budapest in one day
8| Dohány Street Synagogue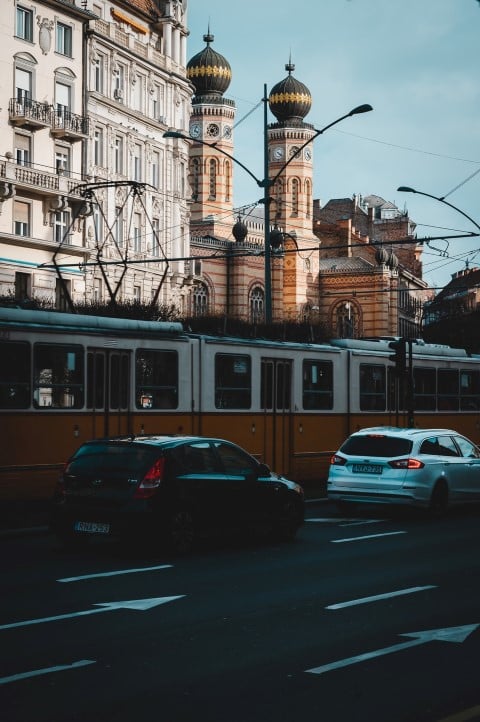 From the train station, you can take the red underground to Astoria Station, where you can find the colorful Dohány Street Synagogue. It isn't just breathtaking inside and out, but it is also the largest synagogue in Europe.
It is closed on Saturdays and it's open from 10 am to 4 pm on Saturdays to Thursdays and 10 am to 2 pm on Fridays.
Dohány Street Synagogue entrance fee is 5000 HUF ($15) including a tour.
A short walk from here you can find the Central Hall Market on Fovam square, which is alone a beautiful building, not to mention all the delicious food is sold there.
You can buy fresh products, souvenirs and try dishes locals eat on a daily basis. It is one of the best spots to sample the must-try langos, a typical Hungarian dish, which is simple, filling and delicious.
7| St. Stephen's Basilica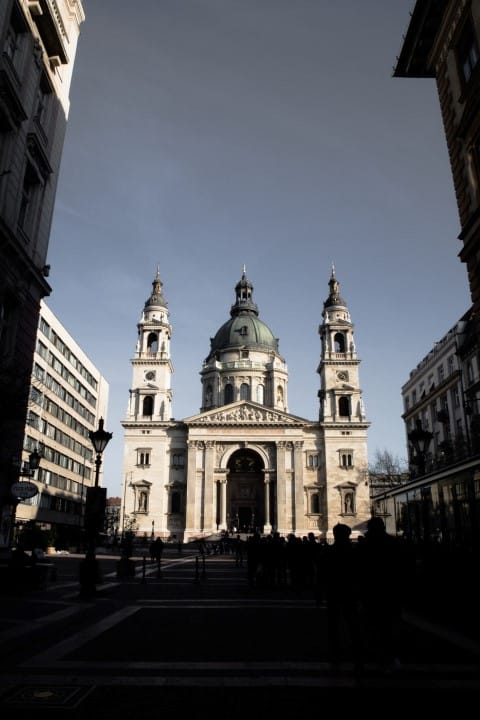 You can either walk from Astoria to Deák Ferenc Square or take a tram, even get there by underground.
At the central square of the city, you can find some of the best places to visit in Budapest. One of Hungarian's pride is the majestic St Stephen's Basilica.
It is a piece of art wherever you look and there is no entrance fee to visit, a small donation of $1 is kindly advised. You can also visit organ concerts on certain days.
It is open from 9 am to 7 pm every day, except Sunday, when it opens at 7.45 am.
Once you are at Deák Ferenc Square you can have a walk in the area to explore some other beautiful spots. Depending on when you're visiting, make sure to dress accordingly as it can get chilly. A sweater or a nice jacket should have you covered.
You can do a little shopping in the Fashion street, find typical Hungarian souvenirs in Vaci street and take a snap of the Hungarian State Opera on Andrássy road.
From the Opera, you can take the historic underground line 1 to Heroes' Square, which honors the biggest figures of the country's history.
It is a large open space enclosed by some of the best museums in Budapest in the neighborhood of the green City Park. Once here, you can stroll around to visit the Vajdahunyad Castle, City Park and the Museum of Fine Arts.
On your way back to the center you can visit the House of Terror at Andrassy Road, a dark, interactive museum showing the terrifying history of Jewish people.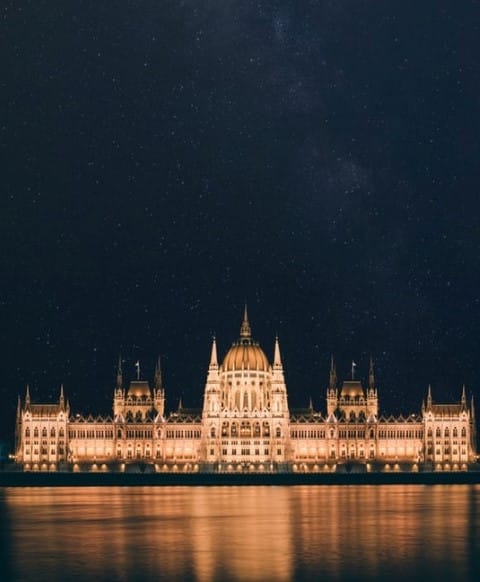 From Oktogon station, which is a large intersection of Andrassy Road and the main ring road, you can take a tram to the dreamy Parliament.
This white building is just like a fairy tale castle that is going to make an amazing Insta post, no matter from which angle you shoot. Europe's third-largest parliament has to be on everyone's one day Budapest itinerary for sure.
You can also enter the building every day except for some holidays. There are English tours departing six times a day and Budapest parliament ticket price for non-EU citizens is 6000 HUF ($20).
4| Széchenyi Chain Bridge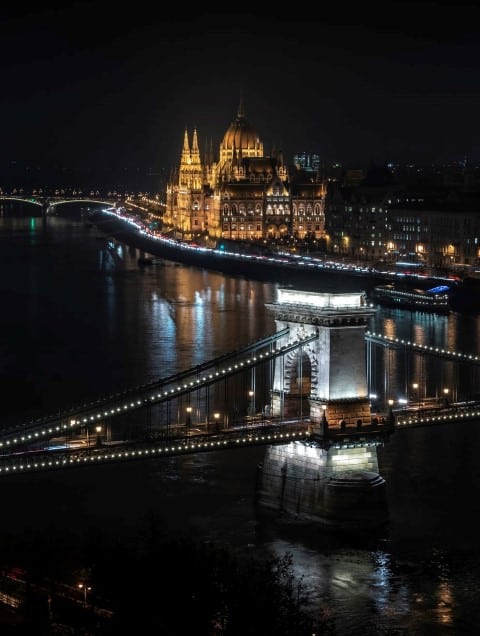 As you are heading the Buda side of the city, you can take a short walk or hop on a tram to Széchenyi Chain Bridge.
It was the first bridge of the city to connect the eastern side with the western city. It is a lovely walk over to the other side of the over 170-year old beauty.
3| Buda Castle | Fisherman's Bastion | Matthias Church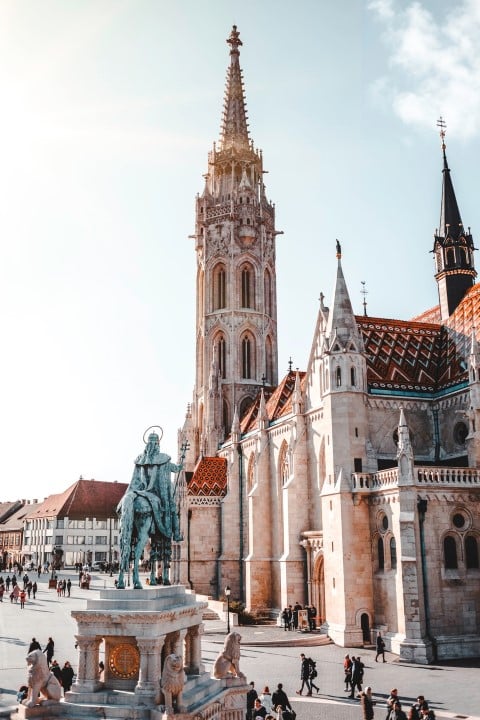 You can visit the Baroque Buda Castle that is over 700 years old and offers one of the best views of Budapest.
You can walk around to soak in the history of the city, the newly refurbished castle gardens are just gorgeous.
There is no Budapest sightseeing itinerary without taking photos at the iconic Fisherman's Bastion and the Coronation Church aka Matthias Church.
It is a memorable walk around the medieval district. Once getting to the top you can enjoy the best sunset in Budapest.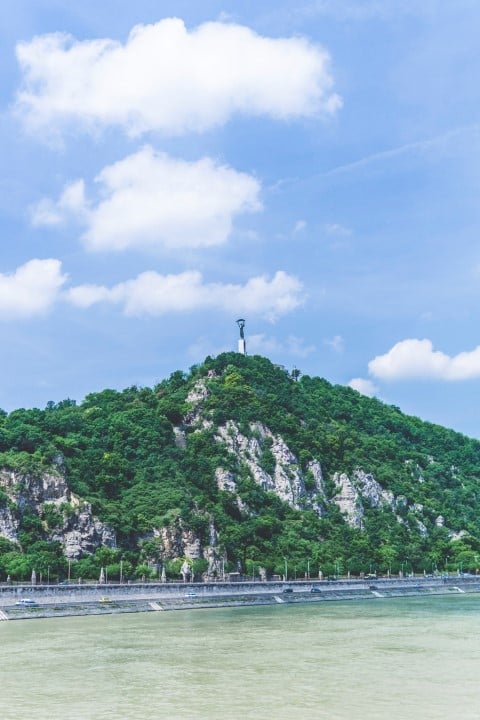 To enjoy the city lights after sunset, climb up to the Budapest Citadel, an old fortress. Besides visiting the Hungarian Statue of Liberty, you can enjoy the magical lights of Budapest.
On your way back to the Pest side, maybe to the train station to catch a Budapest to Prague night train, cross the Danube on the Liberty Bridge.
From St Gellért Square you are going to be under the spell of the beautifully lit metallic bridge all the way to the other side.
The Hungarian capital has become quite a culinary hub thanks to tourism and locals becoming more interested in special eats.
Lángos is a great street food everyone has to try and if you have a sweet tooth, then Kurtoskalacs is another must taste.
You can find a number of vendors on the street as well. In the following list, you can find where to eat traditional Hungarian dishes in Budapest even for vegans.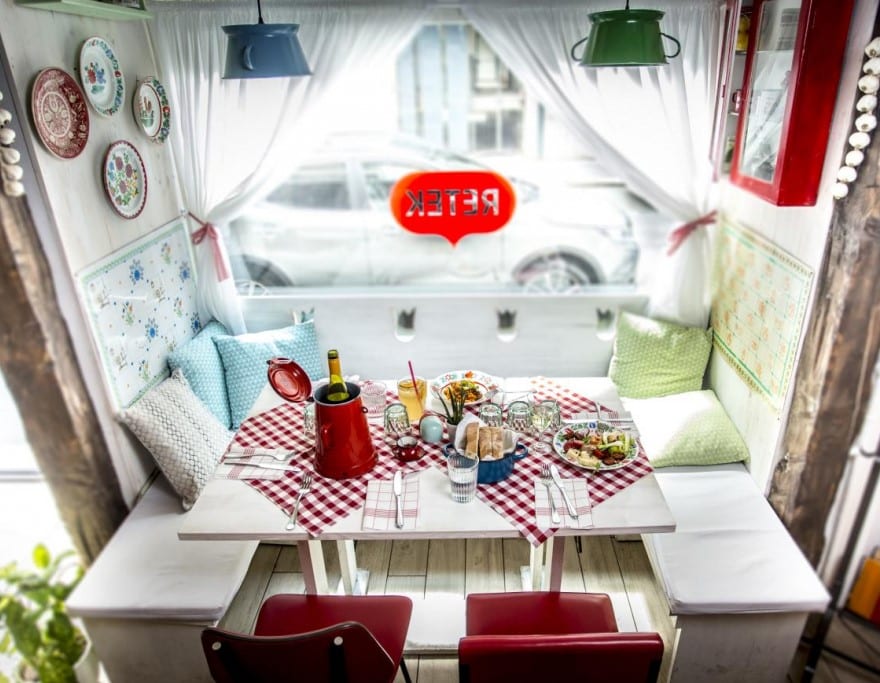 In close proximity to St Stephen's Basilica, you can find a cozy little restaurant that serves real traditional Hungarian dishes.
The design reminds its visitors of the old times and you will be served some of the best authentic meals in the city.
As it is a fairly small restaurant and very popular, if you want to fit this restaurant into your 1 day Budapest itinerary, make sure to make a reservation ahead.
Right at the magical City Park lake Robinson offers some of the best local meals and great bites from around the world.
When you are visiting Heroes' square, you can pop over for lunch, however, it is most beautiful after sunset. The lights over the lake would make an ideal setting for a romantic evening.
They also have an extensive drink list, so if you would like to taste the best Hungarian wines, here you can find from all over the country.
4| Szazeves Restaurant / Hundred year old restaurant
If you are in search of authentic Hungarian restaurants, which one would be a better pick than the first restaurant to open in the city?
It is actually much older than a hundred years, it opened in 1831 in a small baroque palace. You can find it about 5 minutes away by bus from Astoria at Ferenciek Tere station.
Besides some of the best Hungarian dishes in Budapest, you can enjoy a live performance of violin virtuosos right at your table.
For a remarkably posh dining experience, you can visit this historic cafe in the heart of Budapest, at Blaha Lujza square.
The gold and marble interior has been offering real luxury for over 120 years at the bottom of the New York Palace, which now is a hotel.
The cafe was known to be the favorite of many poets and intellectuals over the decades. You can enjoy simply a coffee or afternoon tea if not in the mood for a full meal.
One of the best vegetan restaurants in Budapest is Vega City. It is actually a sort of fast food concept, so don't expect a traditional restaurant with table service.
Just opposite the National Museum at Kalvin square you can try vegan traditional Hungarian dishes besides the popular bites from all around the world.
They are open from 9 am to 7 pm on weekdays only.
In the middle of the Budapest party quarter, you can find the oldest ruin pub in Hungary. Budapest ruin pubs became an iconic part of the city's leisure scene and over time there were just more and more popping up.
Thanks to Szimpla Kert in 2001, buildings that were no longer occupiable, could be repurposed to be something really cool. With this trend spreading, now you can spend a whole week exploring these quaint spots.
It is not a dining spot, but you can have "Zsirosdeszka" (lardy board), which is a slice of bread with lard, onion, and paprika. It's a superb companion to alcoholic drinks. Only if you don't mind onion in your breath.
Where to stay in Budapest
If you decided to stay the night, your best choices are in districts 5,6 and 7. The most central ones are district 5 Budapest hotels, which tend to be a little more expensive as well.
We picked a hotel for you, that is well located and offers great value for you. At an average in Budapest, you can get a room for around $50, although it really depends on the category of the accommodation.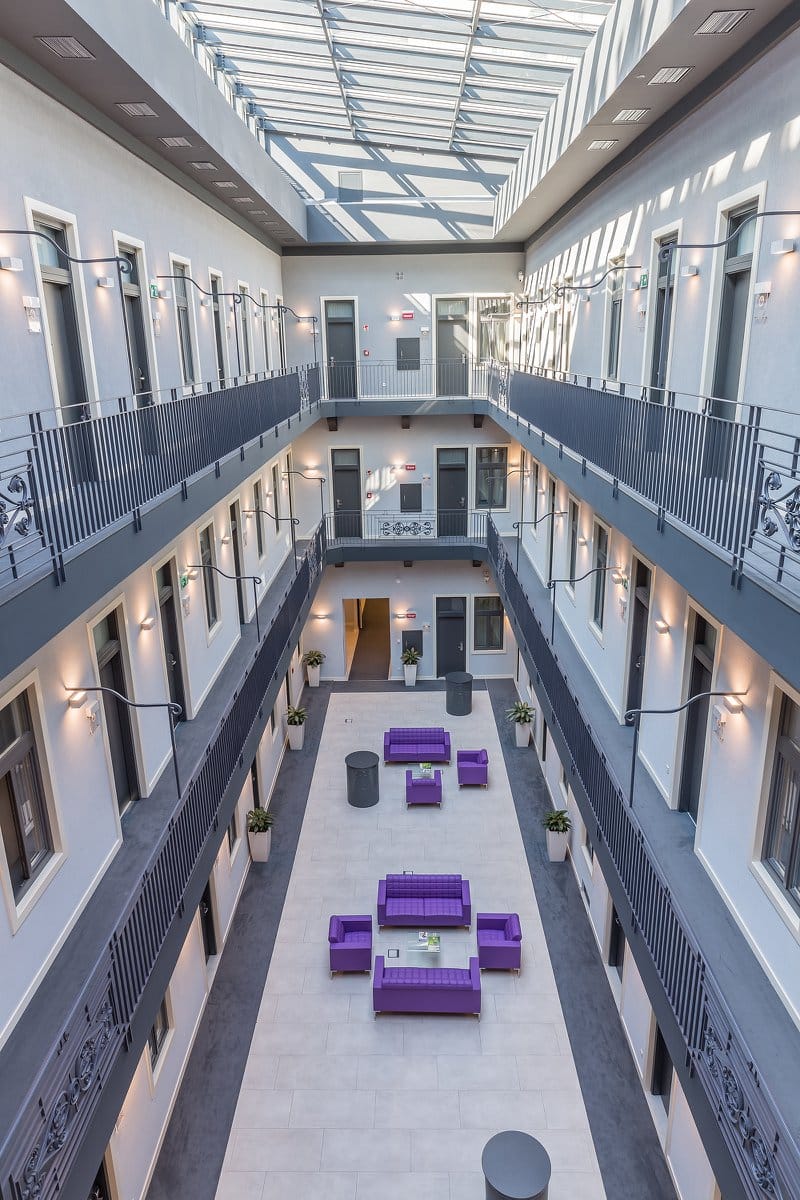 This four-star hotel is a perfectly good base for tourists and business visitors. Located a few minute walk away from the Basilica, it is easy to find and has great facilities.
Besides the swimming pool and great service, you can enjoy a beautiful sunset from the rooftop bar. It is a good value hotel especially considering the standard of service for such a budget-friendly rate.
From Budapest to Prague by Train
The train ride from Budapest to Prague is considerably long (minimum 6,5 hours) however, it's a nice ride with great views or you can take a night train and have a good night's sleep on a train instead of a hotel.
Here is a few extra info that will help you find the perfect train ride for you and a few extra tips on what to do and where to eat and sleep in Prague.
How long is the Budapest to Prague journey by train?
You can find routes that take around 7 hours, which is ideal to be done overnight. There are Budapest to Prague and Prague to Budapest night trains every day in various categories.
There are trains every hour, so, you don't have to worry about missing the closest one, there is always a next. It is a pretty easy train ride, with only a few stops on the way.
Is the train ride from Budapest to Prague scenic?
You can have a quite nice view of Northern Hungary, some parts of Slovakia and Czech Republic. As the train stops in the Slovakian capital as well, you can schedule a short stop for sightseeing in Bratislava to take a break from the long ride.
Budapest to Prague Fly or take a Train?
Well, it's a good question. If you enjoy train rides and as mentioned you can even add another city to your sightseeing list, taking a train is fun. But if you prefer to save time and you don't find a 7-hour train ride comfortable, then flying is more suitable for you.
The Vienna to Budapest train ride actually saves time for you (if you count that you have to be at the airport 2 hours before flight). On the other hand, the Budapest to Prague train route is just for fun.
Your 1-day Prague itinerary includes some of the must-see historic buildings and a few interesting spots that will make a memorable visit to the Czech capital.
There are plenty to see in this old city and we tried to fit in the best things to do in Prague in one day. If you find this one-day itinerary a bit too tight, you are welcome to make your changes.
Prague is also a great city to walk around, you can easily reach most of the sightseeing spots in Prague on foot. We will start at Prague Hlavni Nadrazi station.
What to see in 
P
rague in one day
The over 500-year old tower is an iconic part of the cityscape. It marks the line between the old and new town and it used to be one of the original city gates.
Its function gave the name; the tower served as a gunpowder store. This beautiful Gothic tower now can be visited to enjoy the view from 44 meters and learn about the city's history.
The Powder Tower entrance fee is 90CZK ($4) and its usually open every day but times vary depending on the time of the year.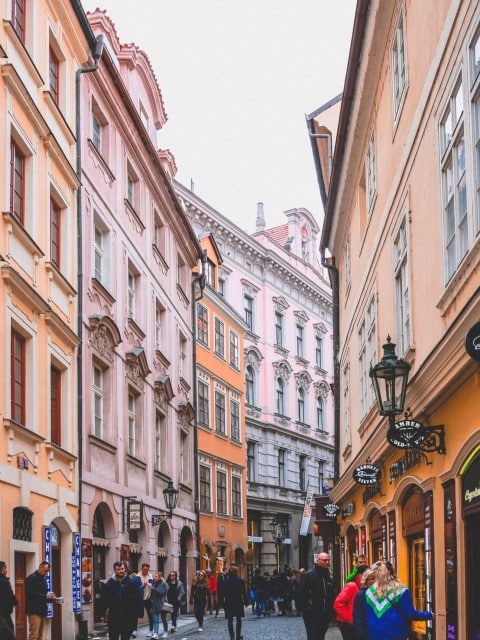 Only a ten-minute walk for the tower you can take a stroll in the historic Jewish quarter. The cobbled crooked streets can tell so much about this area's history without words.
You will see hundred-year-old houses, the colorful synagogue and the Jewish cemetery. Without a doubt, this neighborhood is one of the most beautiful ones in the city.
In case you would like to learn more about the history of this area, the Prague Jewish museum entrance fee for adults is 350CZK ($15) that allows you in the cemetery as well.
6| Old Town Square and Prague Astronomical Clock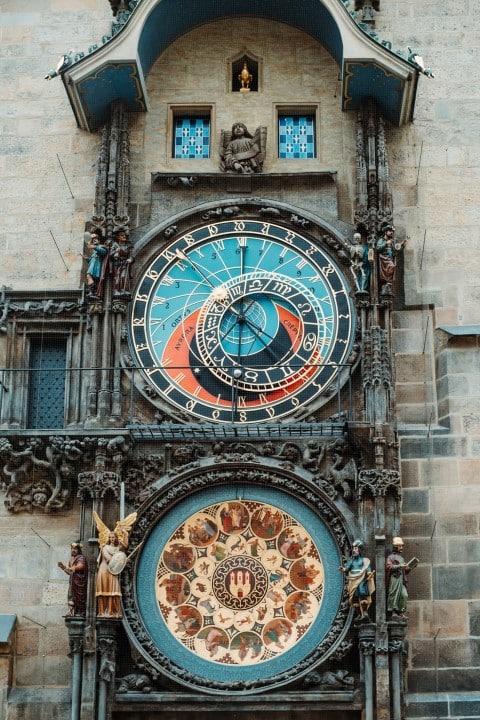 A stone's throw away you can find the main square of Prague old town. Here you can sit down and just soak in history or have a nice drink in the busy square.
Summertime is a great spot for ice cream and during the colder months for hot chocolate.
Here you can find Prague's most popular attraction no sightseeing itinerary misses; the Prague Astronomical Clock.
Besides being a fascinating piece to look at, it is also the third-oldest operating astronomical clock in the world.
It was installed in 1410 and it looks like something that has just been teleported over from a fantasy world.
Between 9 am and 11 pm you can enjoy a performance when the clock strikes the hour as the twelve apostles are set in motion.
5| Prague Castle (Extra Strahov Library)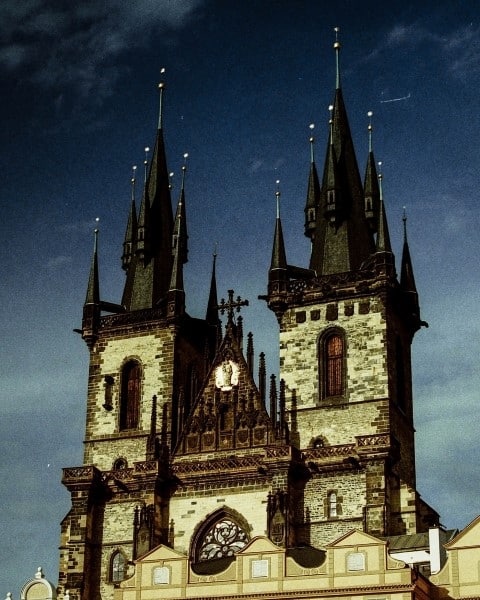 In just twenty minutes you can get to the UNESCO protected Prague Castle complex that has a rich history of over a thousand years.
Walk around in the complex to find some of the oldest corners of central Europe. Here you can visit a number of museums and the St. Vitus Cathedral besides enjoying a magnificent view of the city.
Is Prague Castle free?
Yes, you can walk around in the complex, however, there are some buildings that are only accessible for a fee.
As an extra, you can enter one of the best places to visit in Prague, the dreamy Strahov Library. It is part of the Strahov Monastery only a 15-minute walk from the castle, but you are not going to regret the detour.
Heading towards the city you can pop into one of the best museums in Prague, the interactive Franz Kafka museum. It is only ten minutes away from the Castle on the bank of Vltava river.
If you love Kafka's work or haven't heard anything about him, you are going to find this place remarkable in either case. You can learn a lot about his life and the stories behind his works.
The Kafka Museum price is 200CZK ($9) and its opening hours are 10 am to 6 pm every day.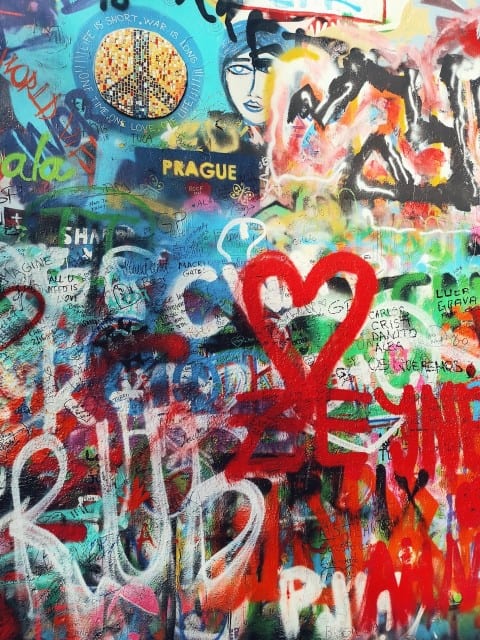 Within only a five-minute walk you get to Lennon wall.
The more or less 40-meter long wall is a way for fans to pay their respects to the beloved artist John Lennon. Following his assassination in 1980 his fans and followers began to paint Lennon-inspired pieces.
There are all sorts of artworks, Beatles songs and even protesting statements painted on the wall. As Lennon was a role model to many pacifists, it is not only about his music.
Now it is time to head to the most popular tourist attraction in Prague; the over 600-year old walking bridge. It is a majestic piece of architecture, which is quite an experience to walk on.
As you pass the baroque statues of patron saints from the 17th and 18th centuries, you are up for a fantastic time. On the bridge usually, there are all sorts of artists and performers creating a truly unique atmosphere.
There is no 1-day Prague sightseeing itinerary without visiting this magical bridge. It is also good to know that Charles Bridge was the only means of crossing river Vltava until mid 19th century.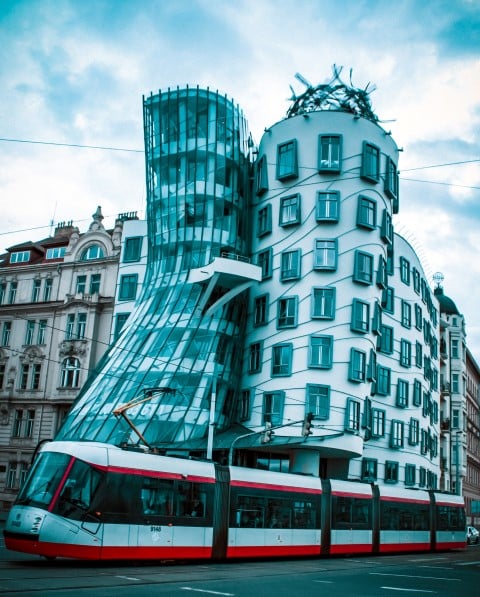 Now that you got back to the eastern side of the river, head south to get a feel of modern Prague. A twenty-minute walk from the bridge you can find the Dancing House.
This building is a great display of Czech open-mindedness about architecture. As there was an open spot by the river, a great idea came up to build a remarkable building that suggests vitality and liveliness.
It is an office building, but you can visit the restaurant on top to enjoy a nice French meal accompanied with a fantastic view of the Vltava river.
The Czech capital is also a great city to indulge your taste buds, that is for sure. We tried to pick some of the best places to eat in Prague that serve traditional Czech dishes and offer an authentic vibe.
Vegetarians and vegans; good news, you have some great options to enjoy amazing meals.
In the old town, you can have a traditional bite and a good jug of Pilsner at Lokál, one of the most popular restaurants and pubs in Prague.
The design is quite simple, industrial just as the dishes, but it doesn't take away from the taste and vibe. As the name suggests, it will give you an impression of dining and drinking like a local.
It is one of the best places to eat in Prague if you enjoy the simplicity and delicious food.
Once you walked over Charles Bridge, there is a fantastic restaurant offering a magical view of the iconic structure along with scrumptious meals.
Try some typical Czech dishes with a contemporary twist or feast on decadent meals from around the world.
If you are looking for a fine dining experience while enjoying one of the best views in Prague, then this is going to be an unforgettable experience.
At the bottom of the Castle hill, the Medieval Tavern welcomes hungry adventure seekers.
Besides some great and filling bites, you get to enjoy a medieval show that will surely help you get a better feel of Prague Castle's history.
It is a busy place so to be sure you are advised to make a reservation, especially for the medieval shows.
On the way back from the Dancing house near the museum district of Prague, Franz Kafka's favorite cafe awaits.
There, you can sit in for a good coffee, hot chocolate, and some sweets to recharge for the rest of the evening or maybe the next stop in your 1 day Prague itinerary.
They also offer cooked meals as well if you would prefer this elegant, over a hundred-year-old cafe as your lunch or dinner spot.
Fortunately, Prague is getting more and more vegetarian and vegan-friendly as well. One of the best vegan places to eat in Prague is Maitrea right next to Old Town square.
It is a chic place with all delicious and healthy dishes. They offer an A la Carte and daily specials, so even if you have visited several times, there is always something new for you.
There are also traditional Czech dishes on the menu,  so even vegans can try some local flavors.
Naturally, it depends on your budget, but in general, the best places to stay in Prague are found in district one just as most of the best places to visit.
If you are planning a one or two day Prague itinerary you can still stay a bit outside downtown Prague as public transport is quite well linked.
In Prague, you can find hotels from $40/night even in the center in some periods of the year. So let's see where to stay in Prague.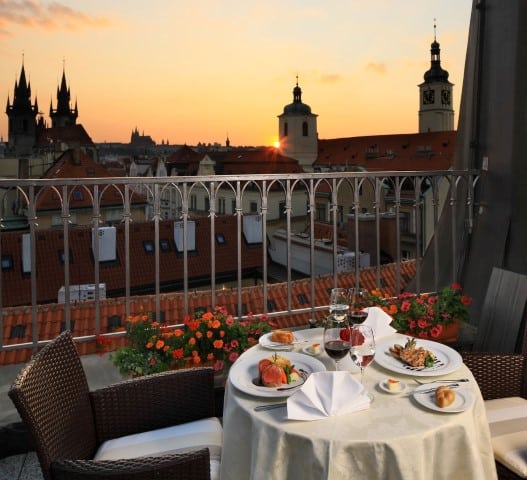 In case you are stuck with where to stay in Prague, then the Grand Hotel Bohemia is a great choice for you.
This beautiful and comfortable classic hotel is very well located not far from the Old Town Square and all the best sightseeing spots in Prague.
Room rates vary, but you can find a room for around $80/night.