A Perfect 3 Days Budapest Itinerary | + Lesser known & Literary Places
Explore Hungary's capital with the help of our perfect 3 days Budapest itinerary for first-timers. Learn about how you can visit must-see spots, dine in traditional Hungarian restaurants, find the best sunset bars, and discover lesser-known and literary places in Budapest.
Budapest is a great city because it's pedestrian-friendly, you can take a nice walk around the central areas without any trouble.
Once you are in downtown Budapest, there is no need for any public transportation, you could complete any of the days of our 3-day Budapest itinerary on foot.
RELATED: Where To Stay In Budapest: Best Boutique & Luxury Hotels
We'll also help you find the best places to eat, drink and dance in Budapest.
You'll probably need at least 3 days in Budapest. However, if you just want to get a feel of the city and have a nice chill city break Budapest will give you that one as well.
We'll start out with some important info about traveling in Budapest but you'll find some extra info and tips after the Itinerary too.
When is the best time to visit Budapest?
It really depends on what do you enjoy the most.
Budapest summertime is the busiest, it is hot and there are a number of parties and festivals going on.
Spring and fall are beautiful, with their own charm they are lovely, colorful and the weather is fairly nice as well. There are all sorts of cultural festivals going on during these months.
Winter can be also great. Cold, but magical and if it snows, then it can be even more amazing. You can try some delicacies only available during winter, visit enchanting Christmas markets and go ice skating.
Where to stay in Budapest?
The Hungarian capital is very well linked by public transport and the central area has a great walkability score.
Depending on your budget you can find great places to stay in the 5th, 6th and 7th districts, while some parts of the 8th are perfectly fine as well.
So if you don't know where to stay in Budapest, look for these central districts.
Should I stay Buda or Pest?
Well, Pest is closer to most of the sightseeing spots in Budapest, but since public transport conveniently links all districts in the city, there are superb locations in Buda as well.
Most Buda hotels are more expensive though, especially the historic areas, so it's up to you and your budget.
Where should a first-time tourist stay in Budapest?
As a first-timer, everything is going to be much easier if you stay in Pest in one the above-mentioned districts. Everything is going to be within easy reach and there is no way you will get los.
Where to eat in Budapest?
We recommend trying less touristy locations. While there is a good chance you are going to find lovely restaurants in the tourist hubs, you may be better off eating at less popular spots.
The best of course, if you can get a local to show you restaurants in Budapest.   
Should you by a Budapest Card?
The big question is Budapest Card worth it for you?
The 72-hour Budapest Card comes at the price of $50 and it allows you free public transport, free entry to a number of attractions and up to 30% discount in restaurants and for concerts.
There are even walking tours included for free.
To sum up, if you are planning to complete our 3-day Budapest itinerary, it is going to be worth it.
Budapest Card prices
24 hour Budapest Card: $25
48 hour Budapest Card: $37
72 hour Budapest Card: $50
96 hour Budapest Card: $61
120 hour Budapest Card: $72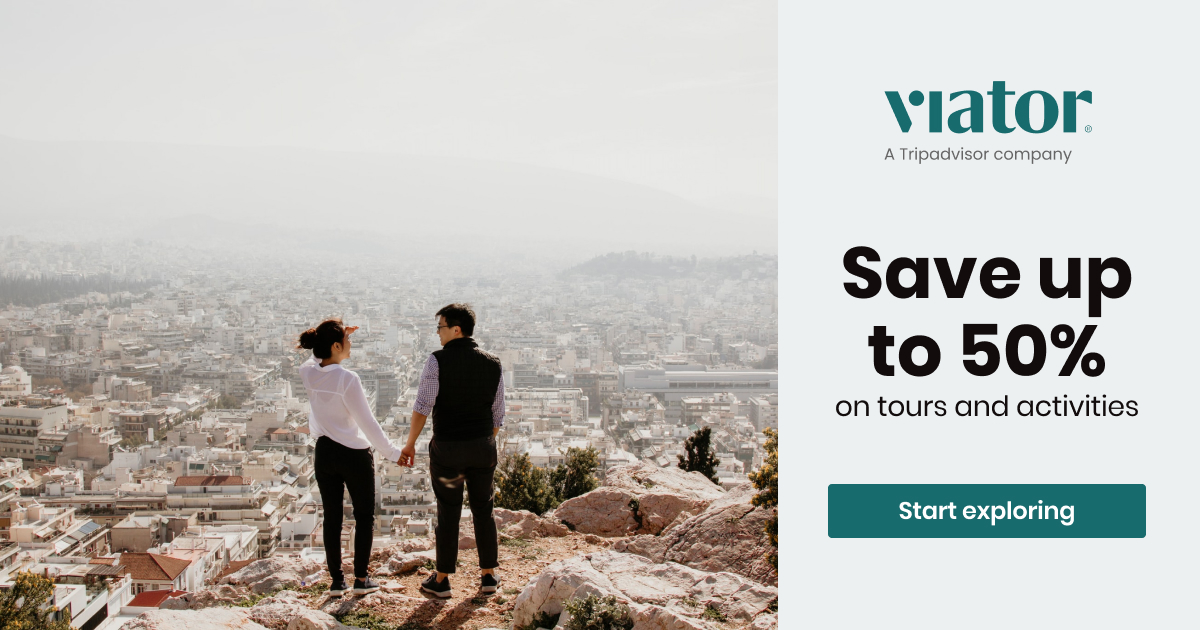 A Perfect 3 Days Budapest Itinerary 
*Disclaimer: Some links on AsianaCircus.com are affiliate links. If you click through and make a purchase we may receive a small commission (at no additional cost to you). Thank you for your support, you're awesome! =)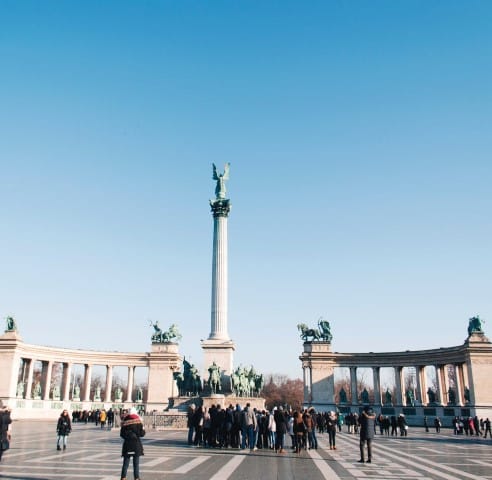 Whichever part of the city you are staying in, getting to Heroes' Square is pretty easy.
You can get there by a number of buses, trolleybuses and the historic Budapest underground number 1.
Starting your 3-day Budapest itinerary here as early as possible will make your life much easier. The earlier you visit the fewer visitors you have to share the square with making it easier to take some beautiful photos of the statues.
Heroes' Square in Budapest showcases some of the most important Hungarian figures who played a significant role in the country's history.
Here you can enjoy a large open space and indulge in the beautiful view.
Since you got here early and not in a hurry, a great itinerary Budapest should include a nice walk around the City Park. In this lush area, you can explore some amazing statues while either having a romantic stroll or a fun walk for the whole family.
The Statue of Anonymous is an interesting piece of art, especially because the writer was a mystery himself. There aren't many historians who can tell about him, apart from being one of the 12th or 13th-century king's historian and author.
Since the country had a number of kings called Bela, there isn't a lot to go on by. Anyway, aspiring writers; legend says if you touch the pen Anonymus is holding, you will become a gifted wordsmith yourself as well.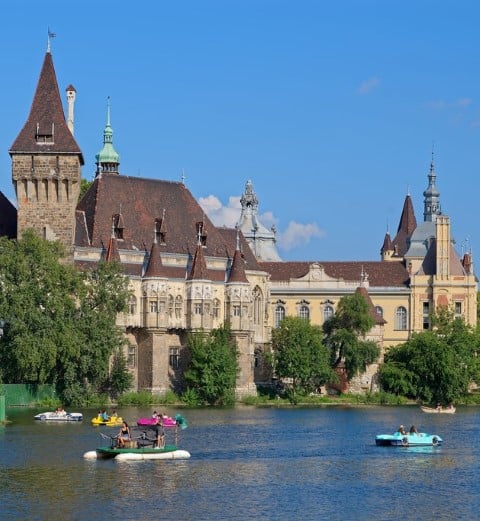 One of the most beautiful castles of Hungary is actually a fairly new one; it was built in the 19th century. First mostly made out of wood but in the first decade of the 20th century, it was rebuilt to be more durable.
It is partly a copy of the famous Hunyadi castle found in today's Romania. Other parts intended to demonstrate Hungarian architecture, that is why you can find a number styles of architecture; renaissance-baroque, Roman, Gothic and ancient Hungarian.
Dracula lovers can also visit Bela Lugosi's bust on one of the corners. For those who are wondering who is Bela Lugosi, he was to the first actor to ever play Dracula in a movie.
There is no Vajdahunyad Castle entrance fee, so feel free to explore.
10| Museum of Fine Arts and City Park Lake
As you walk around you can visit a fascinating building which serves as the Museum of Fine Arts. It is not only the building though, you also find some of the greatest and most remarkable artworks from around the world and of course Hungary.
There are also temporary exhibitions, so it is good to be on the lookout to make sure you do not miss something of your liking.
Taking a stroll you must have noticed the lake that reflects the towers of the castle. During summer you can enjoy a quiet boat ride, while wintertime it is one of the oldest and largest open-air ice rinks in Europe.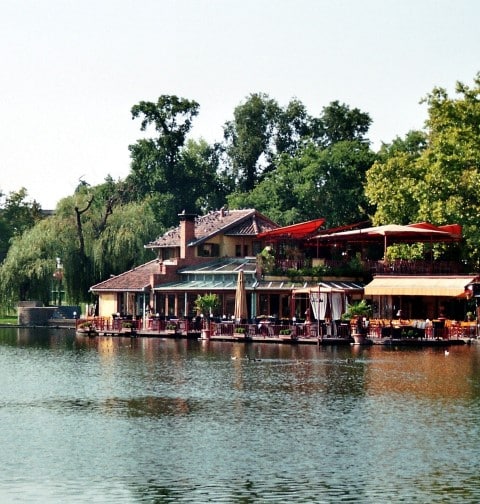 The fresh air and all the walking must have made you hungry so it is time to have lunch. Robinson at the lake is one of your best answer to the question of where to eat in Budapest.
They serve traditional Hungarian dishes and flavors from around the world as well. You can also try some of the finest Hungarian wines and spirits to accompany your delicious meal.
Robinson is among the best Budapest night restaurants in case you can make it back for dinner. It is magically lit after sunset making it a great romantic spot in Budapest.
After lunch, you can either take a nice walk on Andrassy road, one of the most prestigious roads in the city, or hop on the historic underground.
It is the oldest electrified underground system in the world. It was opened in 1896 and operating since. The line is now protected by UNESCO so you can ride into the past with style.
As glorious as the subway sounds, your next stop at Vorosmarty street is a reminder of terrible times in the country and Europe.
The House of Terror is a museum that exhibits the dark times brought by fascism and communism during the 20th century. It is a dark place, which can be triggering so do make sure you are ready for it.
House of Terror Budapest opening times are 10 am to 6 pm Tuesday to Sunday, it is closed on Monday. The entrance fee is 3000HUF ($10) for adults and the temporary exhibition is usually free.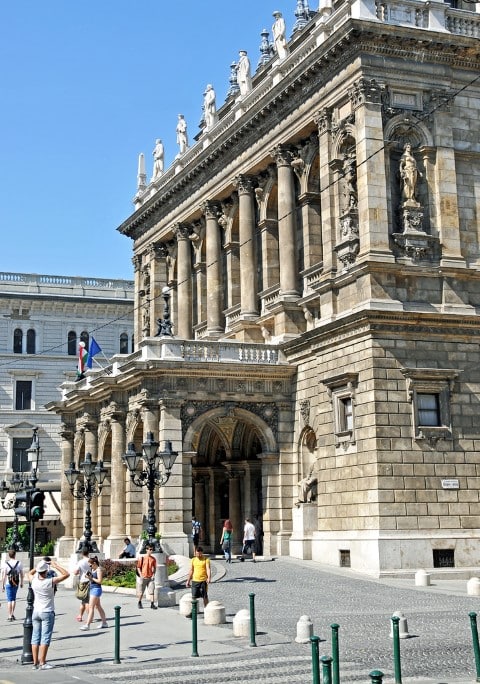 Just a five-minute walk from House of Terror you get to one of the biggest intersection of the city, Oktogon (because the buildings create an octagon).
From here you can take trams 4 and 6 to Margaret Bridge (Jaszai Mari Square), or to some other busy parts of the city.
Now, just cross to continue your walk on Andrassy Road. On this luxurious walk, you can find one of the oldest book stores in the city.
It has been open since 1950 and it is one of the best friends of literature lovers in Budapest.
Here you can also visit the statue of Ferenc Liszt, a world-renown Hungarian composer.
A bit further away you can also visit the neo-Renaissance Hungarian State Opera. It has the capacity of 1300 people and you can catch performances during the season but it is recommended to think ahead as it tends to be full.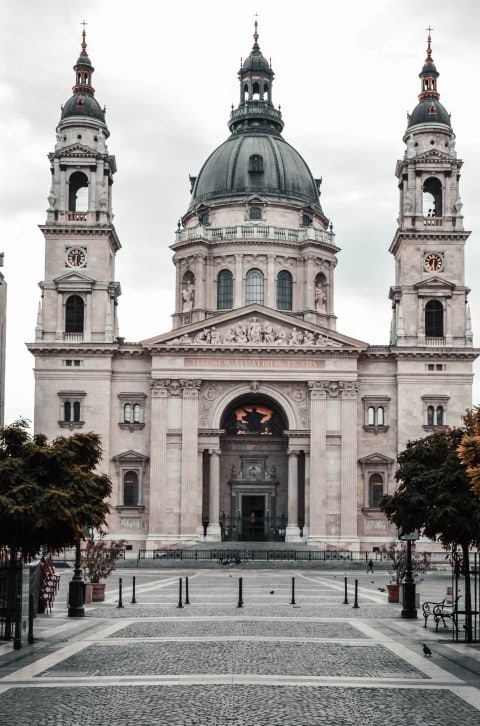 As you get to the end of Andrassy Road, you can either turn left for the lively Deák Ferenc Square or turn right to visit the enormous St Stephen's Basilica.
At Deák Ferenc Square you can have a little walk around or sit on the Ferris wheel, do some shopping in Fashion street and have a refreshment to rest a little.
From the square, you can easily access St. Stephen's Basilica. This neo-classical building was completed in 1905 after a 54-year long construction. It is the same height as the Parliament, making the two Budapest's tallest buildings.
There is no entrance fee for St Stephen's Basilica and it's open every day from 9 am to 7 pm except Sunday when its open from 7:45 am.
Fun fact: you can find the 'Holy Right' of the founder of the Hungarian state who consolidated the country, Saint Stephen. The mummified right hand is held in high regard as it is thought to hold extraordinary powers.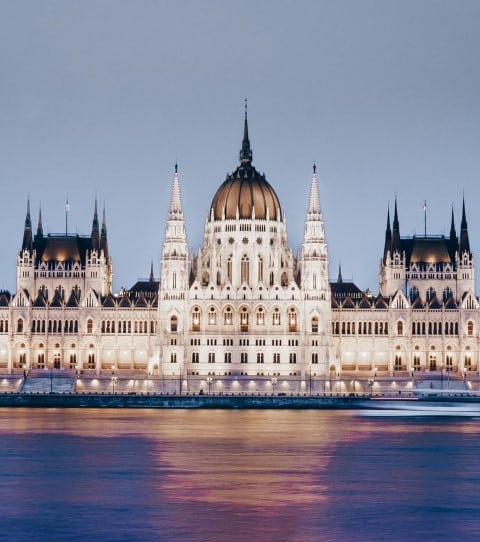 From the Basilica you are only a 10-minute walk away from the third largest parliament in Europe, the majestic Hungarian parliament.
It is so big because when the construction began in 1885 the country was almost four times bigger than currently.
This magnificent building was built to represent the power of the country at that time blending baroque, renaissance, and gothic architectural design elements.
The Hungarian parliament should be on every travel itinerary Budapest visitors want to complete.
4| Dohány Street Synagogue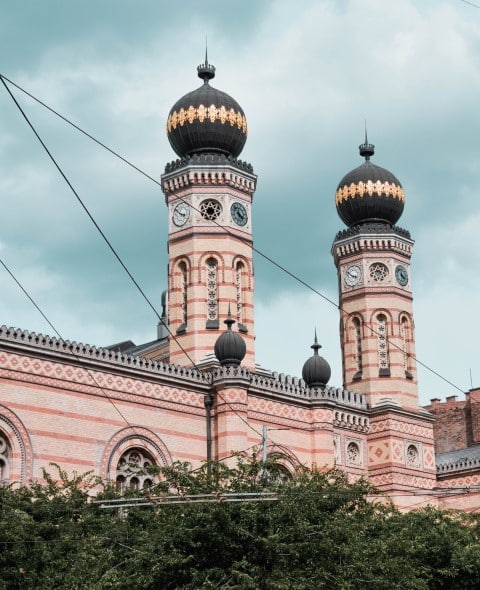 From the Budapest Parliament, you can take Underground number 2 to Astoria station where you can visit the largest synagogue in Europe.
This colorful building is going to astonish every visitor. You can visit it every day except Saturdays so plan your 3 days Budapest itinerary accordingly.
Dohány Street Synagogue entry fee is 5000HUF ($16) with a tour included.
Opening hours vary depending on the time of the year.
3| New York Palace and Cafe
A fifteen-minute walk or a short ride away by bus or underground you can get to Blaha Lujza Square, one of the busiest parts of the city.
In case you love luxurious places, then New York Café is a worthy stop for a good meal or just a drink, maybe an afternoon tea. This over a century old place used to be very different in the wake of the 20th century.
It looked more or less the same, but in a much lower price range. The cafe served as many esteemed Hungarian authors' base, a hub for intellectuals.
Now, it is one of the most prestigious cafés in the beautiful New York Palace.
By bus number 5 or 178 you can get to Clark Adam Square, which is the bottom of the castle hill. Here, you can see the huge Budapest tunnel along with the zero kilometer stone.
From there you can get to the castle district by the Budapest cable car while enjoying a breathtaking view of the Chain bridge.
Exploring the Castle district, you can visit the iconic Mathias Church and enjoy the magnificent view behind Fisherman's Bastion.
Besides the famous attractions, you can visit some interesting museums and art galleries, while the world-famous Hungarian illusionist, Houdini's artifacts are exhibited at The House of Houdini. It isn't just a museum but a meeting point for magicians, you can enjoy shows as well.
Here you can find one of Europe's favorite museums, the Hospital in the Rock. It's a nuclear bunker that served as a hospital during WW II and you can see how it looked at that time.
For a glorious finish of this fantastic day, stay for sunset and enjoy the magical colors of the city from the Castle. As it gets dark you will find yourself at one of the best Budapest night photo spots, so feel free to click away.
Extra tip: If you are not feeling done for the day, some of the best activities in Budapest at night is catching a late show in the Planetarium at people's park.
In case you would prefer to relax a little, you can visit Rudas, one of Budapest night pools and baths. It is open until 10 pm with all sorts of thermal baths, sauna and wellness services.
3 Days Budapest Itinerary | DAY 2
Your second day in Budapest will also start out with some greenery and then takes you around some important and fun cultural spots and must-visit places for bookworms and literary lovers.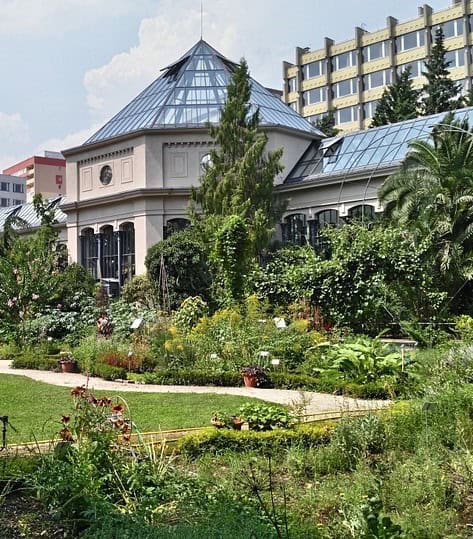 You should start your 2nd day Budapest itinerary at a relaxing spot that became famous thanks to the book 'Pal Street Boys' by Hungarian writer Ferenc Molnar.
The botanical garden is located near Corvin underground station next to the Budapest Natural History Museum.
It is a lovely green spot that is going to make a great start for another active day in Budapest. The garden is open every day from 9 am to 4 pm and the entrance fee is 1200HUF ($4) for adults.
7| Ervin Szabo Library & National Museum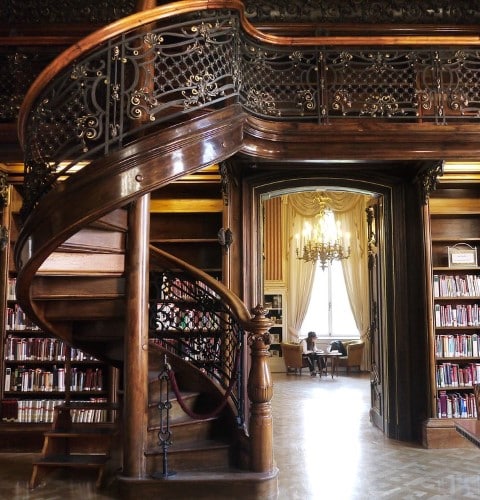 To continue your itinerary exploring Budapest, head towards Kalvin square, you can walk there or take the underground (1 stop).
Here you can find a number of remarkable buildings such as the neo-classical Hungarian National Museum and the neo-baroque Ervin Szabo Library. Both are amazing buildings inside and out, which were part of many movies' and series' set.
You can enjoy the nice weather or a delicious cup of mulled wine during winter in the Museum Garden or the lovely cobbled streets around the two buildings.
Museum Avenue is a true vintage book lovers' heaven; there are a number of independent vintage book stores all the way to Astoria.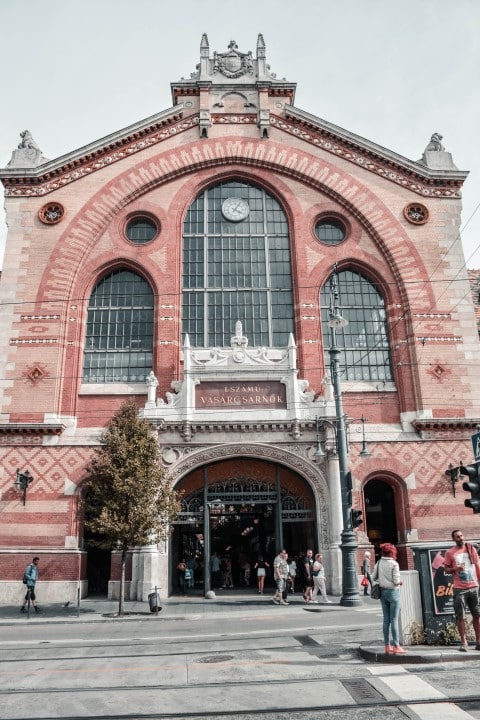 There should be no travel itinerary Budapest visitors complete without experiencing a good old Hungarian market. If you turn left on the avenue coming out of the Museum, you will have a nice 10-minute walk lined with many antiques to Fovam square.
There, you will find the biggest market in the city, the Budapest Central Market Hall. Here, you can buy fresh products, Hungarian souvenirs and have some of the best traditional Hungarian dishes in Budapest.
Getting upstairs, you can try the famous Langos, cooked sausages, and some seasonal delicacies just as a local would eat them.
Once there, you can walk around the square and admire the beauty of Liberty bridge, which is on some weekends during summer 'closed for a picnic' so you can sit and walk around as you wish.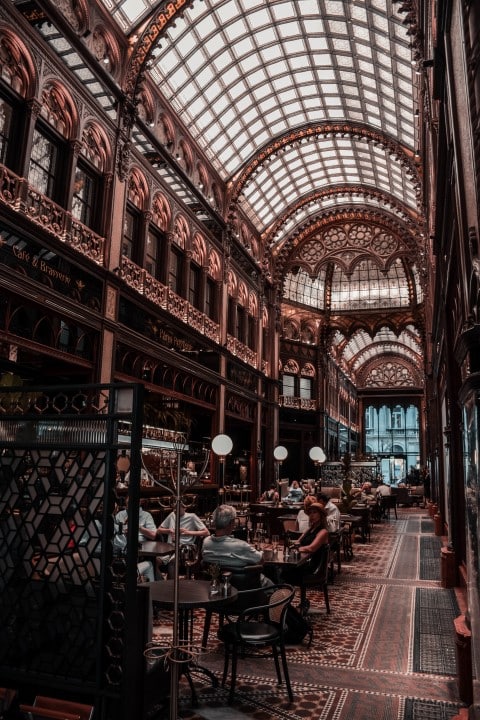 The busiest tourist street starts at this square; enjoy a nice walk in Vaci street, where you can find many restaurants and Hungarian souvenir shops.
It is a street where you may find some performers and musicians, so good entertainment is guaranteed.
In the middle, you can make a stop at Ferenciek Square, where there are a number of nice cafes and restaurants nearby including Párisi Udvar Hotel's stunning cafe.
4| Central Cafe & Restaurant
Boasting a colorful history, Central Cafe & Restaurant was first opened in 1887 and then reopened in 2000. It has been the go-to cafe for many of the best known Hungarian writers and public figures in the first half of the 20th century.
It can be found near Ferenciek Tere in Karolyi street not far from the Historic Museum of Hungarian Literature.
If you would like to try traditional Hungarian dishes with a modern twist, it is among the best restaurant in Budapest for you. Central Cafe & Restaurant is also one of the best romantic restaurants in Budapest.
Your walk on Vaci street will end at Vorosmarty square, which is a buzzing square with the most famous Hungarian dessert Cafe Gerbaud.
For the most delicious sweets that had been indulging Hungarians, sit in and order whatever you cannot resist. It was first opened in 1858 at a different location and moved in 1870 to where it is found now.
It's also a great place to pick up some delicious traditional Hungarian souvenirs since Gerbaud creates fine chocolates and sweets and sells them in elegantly designed boxes.
The long-lasting tradition of sweets can be soaked in while also sampling some modern spirited desserts as well.
2| Aranytiz Cultural Center
A short walk, about 10 minutes from Vorosmarty square, you can visit the Aranytiz (Gold ten) Cultural Center in Arany Janos street.
It is a nice walk in the posh neighborhood, you can walk on the bank of river Danube and with a short (100 meters) detour you can visit the famous Shoes on the Danube Bank. It commemorates the terrible fate of many Jewish people who were shot dead falling in the river.
The Aranytiz Cultural Center is a superb place for you to get familiar with some typical Hungarian dances, dresses, and art.
You can even sign up for a folk dance class if you wish. Feel free to get in touch with the cultural center prior to your visit to make sure you do not miss the next class or an interesting exhibition.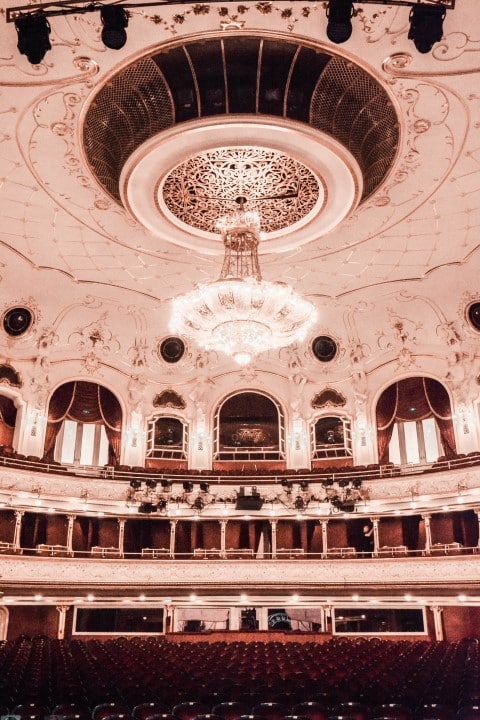 From Aranytiz, a nice walk away you can find the Operetta Theater at the small but culturally bustling Budapest Broadway. On the way there you can cross Liberty square (Szabadsag Ter), a lovely park surrounded by architectural wonders.
The Hungarian Operetta Theater is another amazing place that is definitely among the most beautiful buildings in Budapest. You can enter to explore or actually sit in for a musical or Operetta, but make sure to reserve your seats as early as possible, it is very busy throughout the season.
You can buy tickets from 2500Ft ($8). Check tickets on their site: Operett.hu
Extra tip: check out Margaret Island, for one of the most beautiful Budapest night shows visit the music fountain. It is a magical display while soothing music plays.
3 Days Budapest Itinerary | DAY 3
After a busy 2-day travel itinerary in Budapest, it is time for something rather relaxing. Take it easy on the last day and enjoy some recreational activities in Budapest while learning about Hungarian culture, history, and tasting delicious treats.
5| Szechenyi Thermal Baths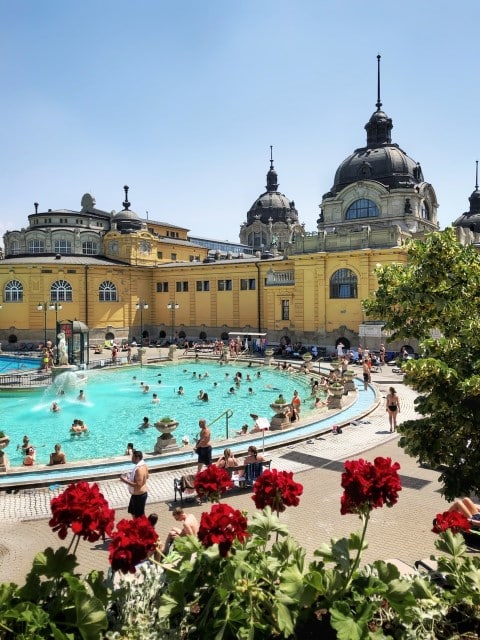 Szechenyi Thermal bath is one of the best places you can relax in Budapest. This bath has healing hot waters as well as cold water pools for swimmers. It's also a place where you can also enjoy a sauna, various massages, and beauty treatments.
They have beautiful outdoor and indoor pools and a nice garden, a few hours spent here will be a whole lot of fun for the whole family.
Ticket prices depending on age. Day tickets start at 5900FT (20$).
You can also visit other excellent and beautiful baths in Budapest.
There are other lovely spots, such as Kiraly Baths at Margaret Bridge or the Rudas Turkish Baths at the bottom of Gellert Hill, and Gellert Bath.
Rudas has a rooftop pool as well to enjoy a magical view of the parliament. So you have plenty of options to indulge yourself, if you have time, you could plan a Budapest itinerary exploring all the fascinating Budapest bathhouses.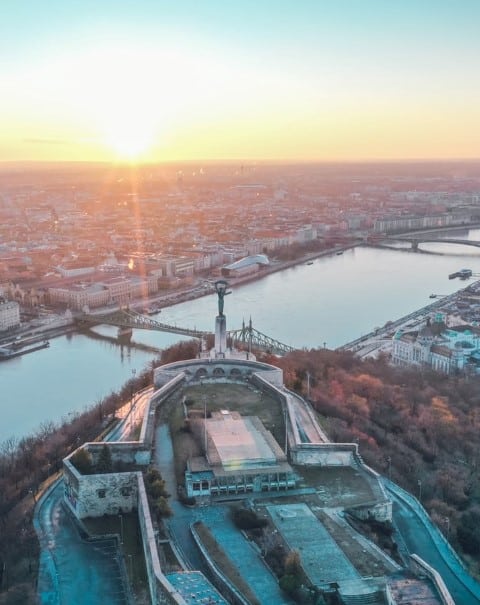 The Budapest Citadel on top of Gellert hill offers one of the best views of the city. You can either choose to hike up or take bus 27 to get there. It is a fortress built by the Hapsburg rulers following the 1848 revolution.
Despite their efforts, locals are looking at it as a symbol of freedom. You can even find the Hungarian statue of Liberty there, which is lit beautifully at night.
If you choose to visit at the end of the day, an unforgettable panoramic view of Budapest at night awaits.
Before or after hiking up to the top, you can visit some lovely spots in the area. Exploring Taban, an area that includes Gellert Hill you can find the Garden of Philosophers, the Fairy Tale Museum and the St. Gellert statue.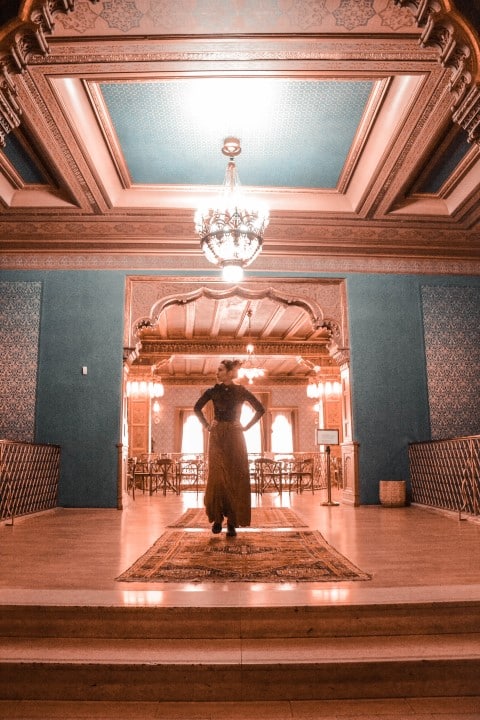 If you would like to sit back and enjoy a good movie, there is no better place to do so than in the most beautiful cinema in Budapest.
Urania Cinema is a piece of art, you won't be able to decide if you are in a cinema or some sort of art museum. The art nouveau interior is just mesmerizing, while there are plenty of activities as well besides movies.
It was built in 1890 and completely refurbished in 2002.
However, ticket prices are normal starting at 1600 FT ($5.50)
2| Szimpla Kert or Potkulcs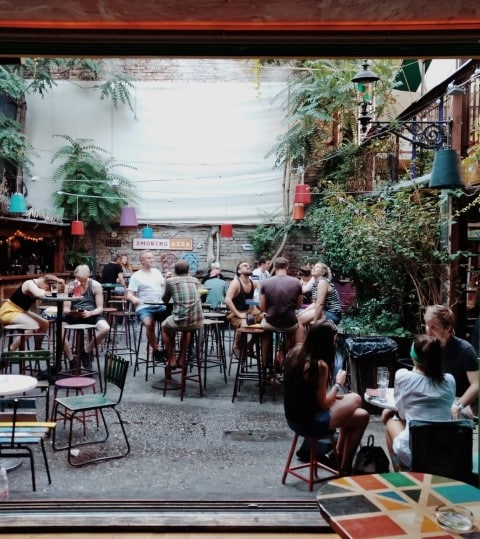 Before diving into the nightlife of Budapest, you can have a drink at one of the famous ruin bars in Budapest.
The fashionable Szimpla Kert in the center of the Budapest nightlife district near Urania Cinema awaits with a quaint design. It is busy every evening because of being on every tourists' Budapest sightseeing itinerary.
If you are in search of a rather hidden, artsy spots in Budapest, then Potkulcs pub in Csengery street will be your spot. It is just a few-minute walk away from Nyugati Station.
1| Budapest by night where to go?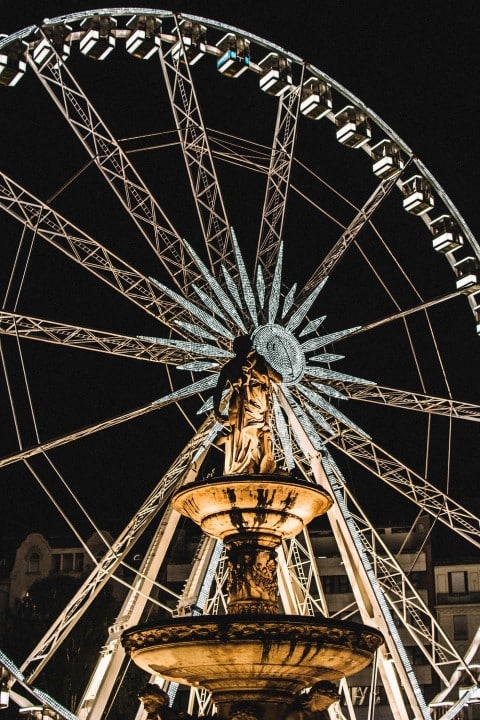 Besides the dozens of party places and Budapest ruin bars, you have some options if looking for a bit different experience. You can have a drink at the odd Calgary Antik drink bar, which is a strange mixture of an antiques shop and bar.
It is within easy reach in Frankel Leo road from Margaret bridge's Buda end.
If you want to impress your date or just simply looking for quality cocktails; Boutique bar Budapest is going to be your favorite spot. Their master mixers will make your most beloved drink just a stone's throw away from Deak Ferenc square in Paulay Ede street.
Another great dating spot in Budapest is Leo overlooking Chain Bridge making it one of the best sunset bars in the city. It requires a higher budget, as drinks are coming for a higher price than average.
There are plenty of other activities such as exploring Budapest night river cruises on the Danube and exciting Budapest at night tours.
Extra tip: for explorers who have energy left for the 3rd day of the travel itinerary for Budapest, you can tour the sky above. Polaris and Svabhegy are superb observatories found a bit outside downtown Budapest.
You can visit Polaris easier, the entrance fee is 1400HUF ($4.50) for adults, open Tuesday, Thursday and Saturday between 6 pm and 10 pm.
The over century-old Svabhegy Observatory offers day programs as well, prices are; day:2900HUF ($10) and night:3500HUF ($12) for adults. Make sure you get in touch in advance as there are no individual tours only if you join a group.
Extra info about Budapest
How to get from Budapest airport to the city center by bus or taxi or Train?
It is quite easy to commute between the airport and downtown Budapest. You have multiple options; the first and easiest is to take a taxi.
How much is a taxi from Budapest airport to the city center?
If you hail one at the exit, it should be around 8000HUF ($27) going to Deák Ferenc square. However, and a few companies take you for half the price if you book them in advance. We recommend BudTransfer, which is reliable and affordable.
There are minibusses at around $7/person taking you to central hotels, no prior booking is necessary, you can make arrangements as you exit.
Budapest airport to city Centre by public transport
Taking a train would be too much hustle as there is no direct link, so unless you are visiting an area outside Budapest, a bus is the best option for you.
There is a direct bus marked 100E, which takes you to Kalvin square, Astoria and Deák Ferenc square. Budapest airport bus price is 900HUF ($3) and it runs between 5 am to 1.20 am from the airport.
If you want to travel from Budapest to the airport, you can catch buses between 3.40 am and 0.40 am. Passes do not cover this bus.
You can also take bus 200E, which takes you to underground line 3, which covers most of downtown Budapest. In case you have a pass, it is included, otherwise, a single ticket has to be purchased for 350HUF ($1.10).
How long does it take from Budapest airport to the center?
By taxi and 100E it is around 30 minutes, while other means of public transport can take up to an hour.
How do I get from Budapest airport to the city Centre at night?
Budapest night transport is quite good, you can travel anytime, just make sure you double-check bus times.
There are night buses all over Budapest, so you can get to the airport without any trouble during the night as well.
Can I use Euro or Forint in Budapest?
Some stores and restaurants do accept Euro, however, if you want to make sure to get the right exchange rate, you are better off using Forint.
How to get around in Budapest?
Thanks to the versatile and extensive public transportation system in Budapest, you can get around easily. During your 3 days Budapest itinerary you can use a 72-hour Budapest travel card but there are also 24-hour one or two-week passes.
If you plan to use public transport at least 4 times a day, then the pass is worth it. You can also use Budapest night transport covering almost all areas of the city.
Budapest public transport prices
Single ticket 350HUF ($1.10)
Exchange ticket (Valid for 100minutes, 120 at night) 530HUF ($1.80)
24- hour pass 1650HUF ($5.50)
72- hour pass 4150HUF ($14)
73- 7-day pass 4950HUF ($17)
The passes do not cover the boat rides, you have to purchase a separate ticket for that. The Budapest boat ticket price is 750HUF ($2.50)
From May to October, you can also catch vintage trams (Nostalgic routes) around the parliament (Pest) and the thermal baths (Buda).
For more information, timetables and journey planner feel free to visit BKK Website