The Perfect 2-3 Days Kyoto Itinerary | Guide for First-Timers
We created the perfect 2-3 Days Kyoto Itinerary for First-Timers who want to see the must-see spots of Kyoto as well as lesser-known gems in a short time. Find out what are the best things to do in Kyoto, where to eat traditional Japanese dishes.
Japan is a fascinating country with so much to see and experience there. It's difficult to fit everything into a holiday, however, we think Kyoto is a great city to showcase the versatility of the country.
We have created the Kyoto itinerary that helps you fully enjoy the city in two to three days depending on how much sightseeing you want to do in one day.
With the help of our Kyoto itinerary, you'll learn all about Kyoto's history, its ancient castles and temples, great traditional Japanese restaurants, Geisha shows, shrines, bamboo groove, and even some lesser-known and secret spots of Kyoto.
What is the best location/area to stay in Kyoto?
Downtown Kyoto is probably the best area to stay in Kyoto if you only have a few days. This includes Gojo and Kyoto Stations along with Karasuma.
However, public transport is excellent in Kyoto so if you stay a bit further from the center it wouldn't cause such a big problem. It's good to keep in mind that what you probably saved on accommodation you may spend it on transport.
How many days should I spend in Kyoto?
A 2-3 days Kyoto itinerary should cover most of the important sights and places of Kyoto but a week is well advised.
If you choose Kyoto as your base, you can visit some lovely places near Kyoto such as Nara, Soja, and Kobe along with many more but you'll need more than 3 days to do so.
How To Travel From Tokyo To Kyoto
The fastest option would be in the air, you can catch the cheapest flights on Momondo.
Although, if you would like to soak in some other parts of the country, you can take a train and make some stops or simply enjoy the view from your seat.
If you choose to travel by bullet train (You can use your Japan Rail Pass) then it's going to be almost as fast as if you were flying from Tokyo to Kyoto.
The most budget-friendly way is to take a bus, however, it can be really uncomfortable and for a 9-hour ride, it can be painful.
How To Travel From Osaka To Kyoto
You can travel by train and if you purchase a day (or multiple day) JR pass, it is actually saving money for you.
Besides the benefit of visiting other cities in the Kansai area, a single fare from the airport is more or less the same price as a day pass.
Kyoto's Spring and Fall weather is fairly pleasant, the temperature usually doesn't go below 68F (20C) during the day between April and October.
The summer months in Kyoto are hot, around 86F (30C). Despite there is a rainy(er) season from mid-June to the end of July, it is still enjoyable as there is no rain every day.
Kyoto's Winter is cold, 33F (1C) is quite normal during December, January, and February. However, if you can handle the cold you can enjoy fascinating festivals and a snow-covered Japan.
The Perfect 2-3 Days Kyoto Itinerary 
*Disclaimer: Some links on AsianaCircus.com are affiliate links. If you click through and make a purchase we may receive a small commission (at no additional cost to you). Thank you for your support, you're awesome! =)
Day 1 of your Kyoto itinerary is filled with some of the most exciting sights, best places to eat (with a secret spot), and of course the best things to do in Kyoto that you can't miss.
6| Fushimi Inari Shrine Kyoto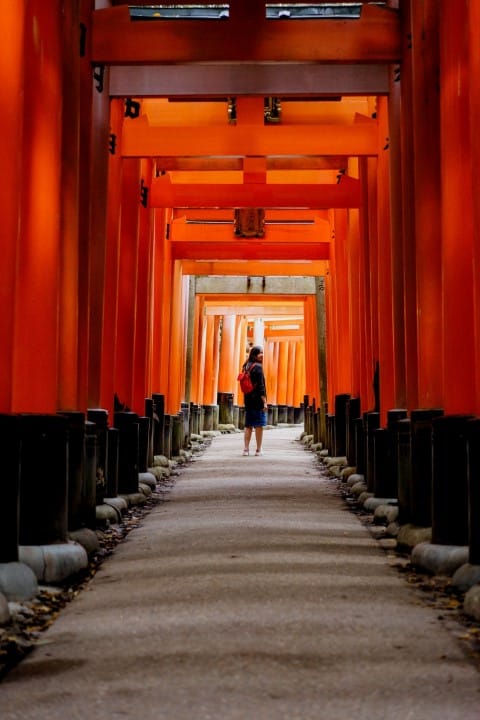 There is no Kyoto itinerary without Fushimi Inari Shrine that is for sure.
Whenever you google Kyoto, vermilion torii gates pop up straight away.
You'll find thousands of torii gates scattered all around the grounds of the famous Shinto shrine. You can walk for minutes in the beautiful corridors that blew up Instagram.
How long does it take to walk the Fushimi Inari Shrine?
It can be a nice half-day activity if you enjoy getting lost in the greens while exploring new little moss-covered shrines and sculptures.
Although, if you are on a 2 or 3 days itinerary, you can walk around the main sights in an hour or two.
How to get to Fushimi Inari Shrine?
Take a JR train from Kyoto station by Nara Line to Inari Station. If you leave from Gion area, take Keihan Main Line southward to Fushimi-Inari Station.
Is Fushimi Inari Shrine free?
Yes, you can visit everything for free.
TIP: If you would like to boost the experience, it is a great opportunity to rent a kimono and take some amazing photos.
It is best to go as early as possible as it is often crowded during the day. The shrine is actually open 24 hours so there is no too early.
5| Philosopher's Path AKA Philosopher's Walk (Tetsugaku no michi)
In high spirits after the elevating Fushimi Inari Shrine, you can head north to the Philosopher's Walk, which is breathtaking during the Sakura season or fall.
It is a lovely walk on a small canal's side, lined by cherry trees. You are going to quickly understand the name and why is it among the best places to visit in Kyoto.
A few minutes in your walk, your thoughts will drift off while enjoying the soothing sound of water flowing and the leaves shaking in the light breeze.
Only a few steps away you can also visit Higashiyama Jisho-ji, which is a beautiful Zen temple with a lush garden. The entrance fee is 500 Yen ($4.50).
The closest stop is Ginkakuji-Michi served by buses 17, 203 and 204.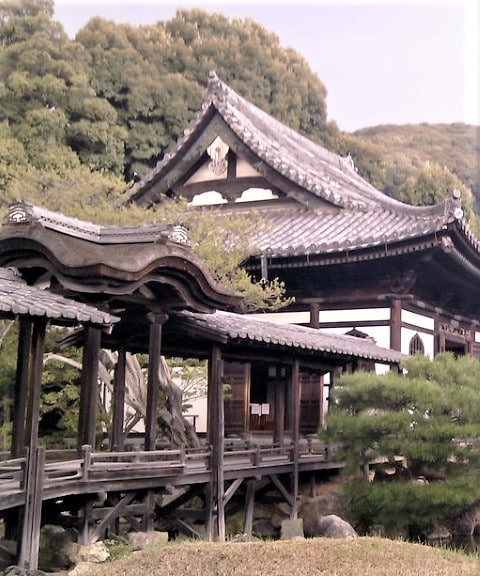 A convenient thirty-minute walk away you can find another gem you are going to appreciate to have squeezed into your 3 days Kyoto itinerary.
Shoren-in Temple is a beautiful 13th-century Buddhist Temple with a relaxing garden. It is the most beautiful during the summer and fall.
There is a 500 Yen($4.50) entrance fee here as well.
TIP: On certain days in March, April, May, and November, you can participate in a tea ceremony for an additional 1000 Yen ($9) in the tearoom.
Taking part in a tea ceremony is among the best things to do in Kyoto and Japan, so do grab the opportunity at one of the most beautiful spots.
3| Rest & Have a Quick Lunch in Kyoto's Secret Angel Library Cafe
After enjoying a nice and long walk in the morning and early afternoon, it is time to rest a little. A fifteen-minute walk away you can find a curious little place, the Cacao Market by Mariebelle.
At first, it seems to be a charming sweets shop for chocolate lovers, but if you ask the right question, an underground secret café awaits to indulge its visitors.
At the counter say you would like to visit the café and you get a code, which opens the door to the stairs leading to Angel Library Café.
It is open between 11 am and 8 pm, no reservation can be made.
2| Enjoy The Beautiful Sunset in Historic Gion 
As you step out of Cocoa Market you are at the border of Gion, the historic geisha district. There is no visit to Kyoto without walking through the old cobbled streets of this beautiful area.
Even if you are juggling a busy 2-3 day Kyoto itinerary, Gion must be included. It is also a great spot to rent a kimono for an authentic experience while snapping some amazing photos.
Take a lovely walk around the old buildings and find adorable little alleys and picturesque wooden houses. Enjoy one of the most memorable sunsets in your life at the iconic tower of Yasaka Shrine.
1| Have a Traditional Japanese Dinner in Gion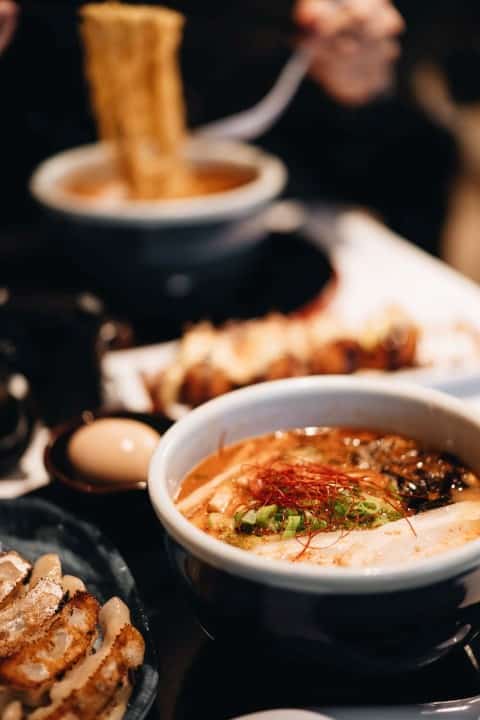 You can find some of the best places to eat in Kyoto while strolling around in the small streets of Gion. There are great restaurants that blend traditional with modern tastes.
Kyoto Gion Tempura Endo Yasaka Honten the authentic Japanese restaurant is an excellent choice. In this area it is going to be difficult to find budget restaurants, most of them are fairly costly.
Issen Yoshoku is a cheaper eatery that will perfectly introduce eating habits in the Japanese fast-food scene.
On Day 2 you can also enjoy some open-air experiences and can find two other great spots to indulge in an unforgettable sunset in Kyoto.
8|  Arashiyama Bamboo Forest AKA Arashiyama Bamboo Grove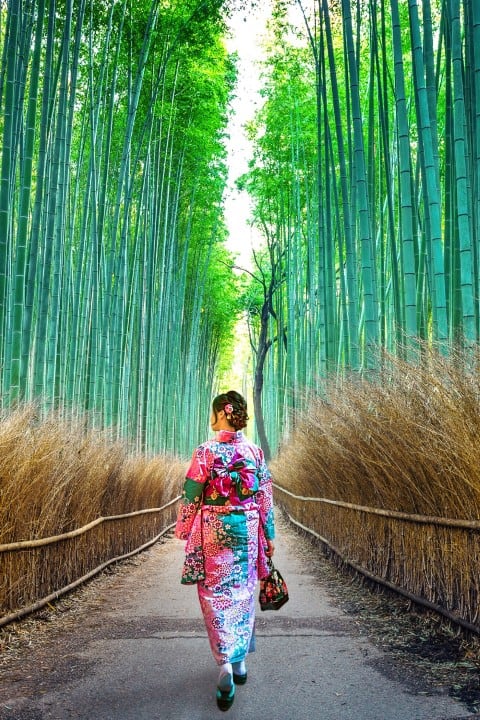 The second day of your 2 to 3-day Kyoto itinerary begins with a trip to Arashiyama in the northwest corner of the city.
Here you can visit the bamboo forest, where 15-feet long bamboos shadow the walking path.
You should arrive as early as you can to avoid the crowds. Arashiyama Bamboo Forest never really closes which means it is open 24/7 and you can visit whenever it's the most convenient for you.
After Arashiyama Bamboo Groove you should have a nice walk around the historic town, where you can find the Kimono Forest and the lush Kameyama Park or cross the Katsura river.
TIP: If you have more time, you can visit the Arashiyama monkey forest or take the Kyoto romantic train (Sagano Scenic Railway).
In this area, you can find the 14th-century Zen temple, Tenryu-ji. It is a fascinating building with a mesmerizing garden that is going to help you find inner peace.
No matter which season you visit you'll find beauty and history in this world-famous UNESCO World Heritage site. It's especially special because of the beautiful surroundings of the temple.
You can walk around for a while and enjoy the quiet before a nice lunch in the town.
Entrance fee: 500 Yen ($4.50)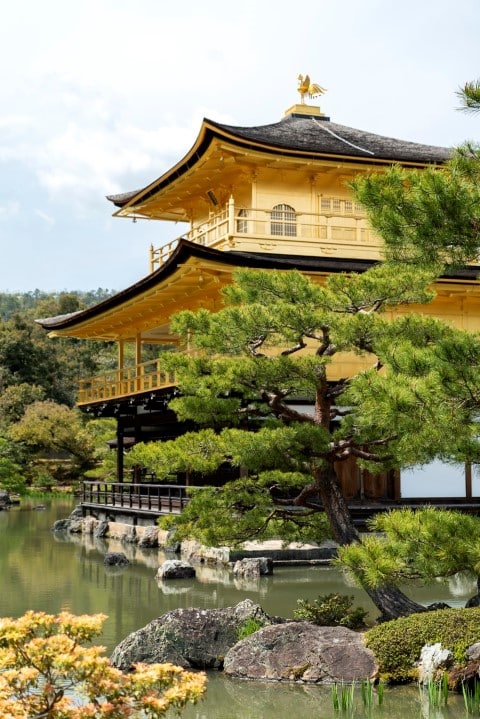 The next stop is one of the most popular tourist sites in Japan; Kinkaku-ji temple. It is built next to a beautiful little lake that reflects the glorious golden building offering an opportunity to take dreamy photos.
Kinkakuji, also known as the Golden Pavillion, which is probably the most popular Zen Buddhist temple in Kyoto. It's not completely made of real gold but the top two floors are covered in real gold leaf.
Kinkaku-ji temple is also a UNESCO World Heritage Site and has a 400 YEN  ($4) entrance fee.
This magnificent Zen temple is certainly going to take your breath away, so enjoy the view and the garden.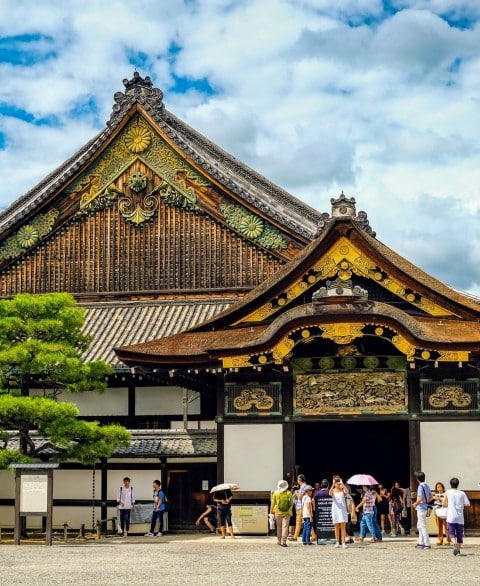 On your way back to the city make a stop at Nijo Castle. It is among the best places to visit in Kyoto because this early 17th-century fort is one of the most beautiful castles on our little planet.
The beautifully carved wooden ornaments and the combination of materials are just fantastic.
You only need about an hour in Nijo Castle and the entrance fee is 620 YEN ($5.60).
Inside Nijo Castle you can explore the beautiful grounds and gardens of this over 400 years old traditional Japanese Castle.
Nijo Castle became a UNESCO world heritage site in 1994. Nijo Castle opens at 8 am (July, August, September) or 8:45 am (October to June) and closes at 5 pm (September to June) or 6 pm (July and August).
4| Explore Nishiki Market & Have some Lunch
A short walk away you can experience the best of the city's bites and souvenirs in downtown Kyoto. Nishiki Market isn't just beautiful, but also offers some of the most delicious and freshly made traditional Japanese dishes to try.
Walking through the market you can sample all sorts of delicacies, may them be sweet or savory, solid or liquid.
There shouldn't be any 2-3 days Kyoto itinerary without visiting this magical place. Indulge your senses at this warm and buzzing spot of the city.
3| Wander Around on Matsubara-dori Street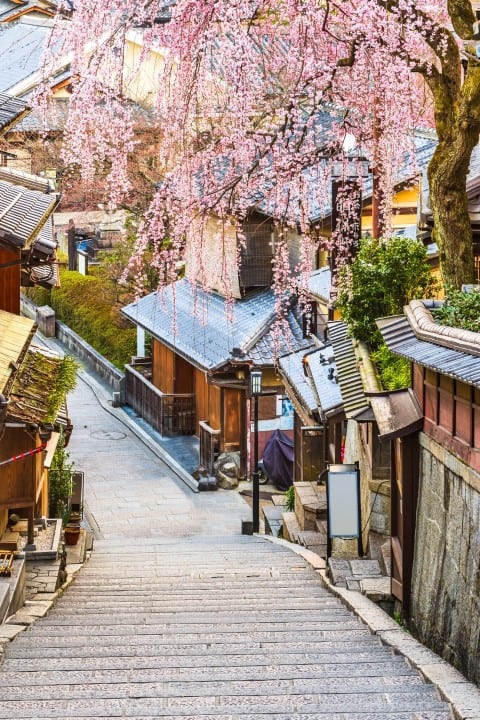 Let's take a walk on Matsubara-dori, a traditional street that stretches across the city leading to the historic Sannen-zaka.
After crossing Kamo river you will find plenty of traditional Japanese souvenir shopping options and on the top of the hill, a superb view awaits. Feel free to get lost in this area, wherever you turn, beautiful old houses line the small streets.
You will find here some of the best things to do in Kyoto such as tea ceremony, arts and crafts, and even rickshaw ride if you feel like sitting for a while. There are plenty of car-free streets in this neighborhood.
2| Visit Kiyomizu-dera Temple for an Unforgettable View & Sunset (depends on the season)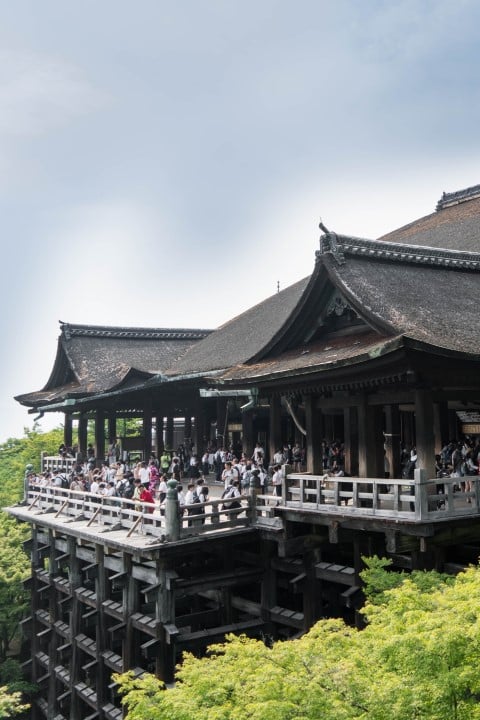 As you see the magical colors appear in the sky, it is time to head up to the mesmerizing Kiyomizu-dera temple on top of Otowa hill. You can enjoy the enchanting view of the city during sunset from the veranda of the temple.
It is most certainly among the best places to visit in Kyoto for a memorable sunset. Kiyomizu-dera Temple is open from 6 am to 6 pm which means you can only enjoy sunsets here during wintertime.
However, closing time is extended until 9 pm during the winter night illumination.
Wait until it gets completely dark as the building is lit up to be like a fairy tale castle.
Kiyomizu-dera entrance fee is 300 Yen ($2.70).
If you visit during summer or spring and want to enjoy a beautiful sunset in Kyoto you should head to Shogunzuka Viewpoint (near Shoren-in Temple) after visiting Kiyomizu-dera.
1| Have a Magical Dinner in Kyoto Downtown with Geisha Experience at Yasakadori Enraku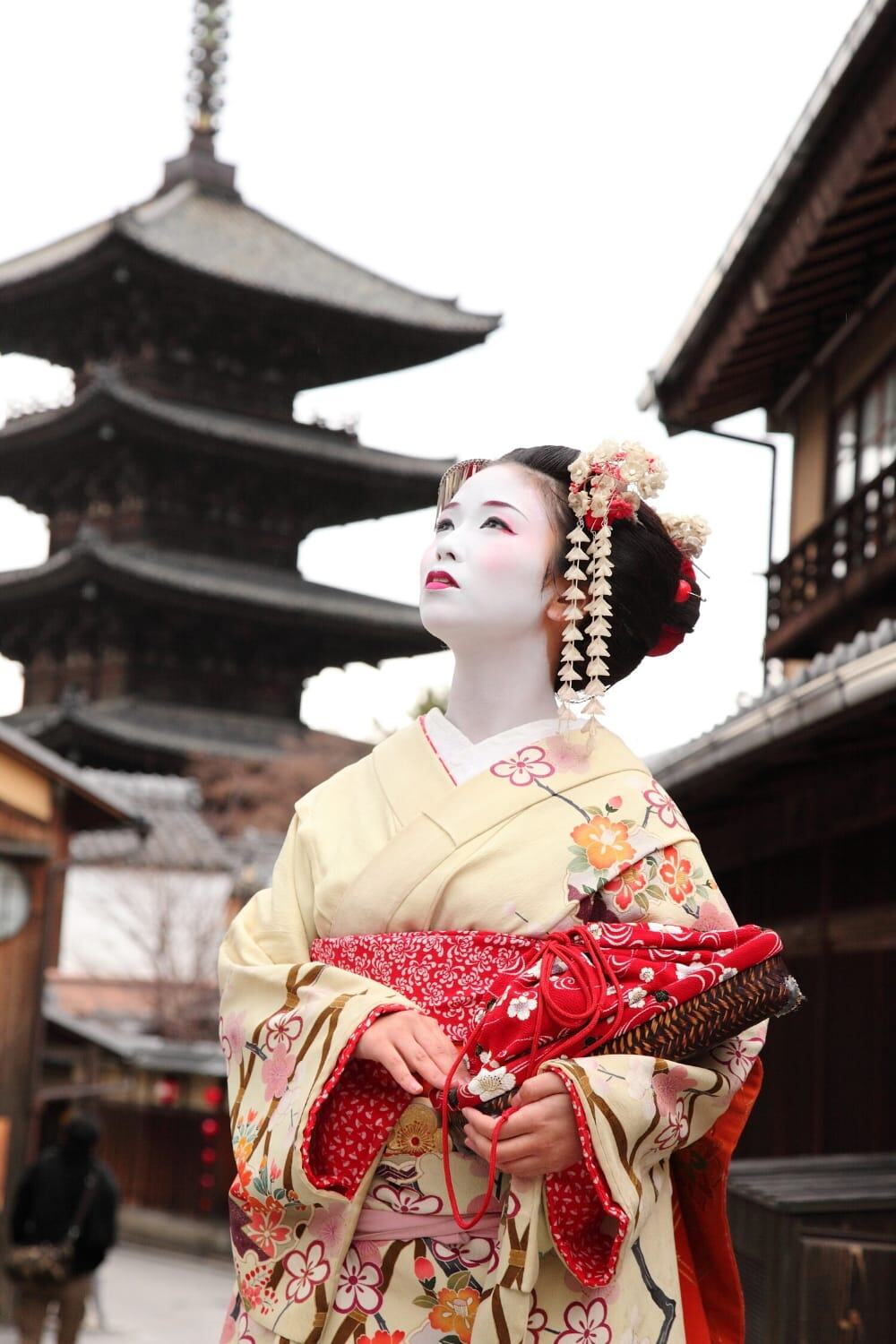 You'll find Yasakadori Enraku an intimate and traditional Japanese restaurant in downtown Kyoto.
Here you can enjoy delicious and traditional Japanese dishes in a traditional setting as well as a Geisha show.
After the Geisha show, you'll also have the chance to actually talk to the Geisha. She always goes around the guests' table so everyone can have a few minutes with her. So, you can ask all that you want to know about Japanese culture or about the modern life of a Geisha.
Yasakadori Enraku is one of Kyoto's most beloved traditional Japanese restaurants that's treasured by both locals and tourists. If you want to have a truly unique dining experience in Kyoto you should book a table here.
Day 3 is all about getting outside and into nature. Hike and explore ancient temples and dine over rivers with locals and when you're done with exploring, relax in Japan's one of finest Onsen.
4| Explore Kibune & Hike Mount Kurama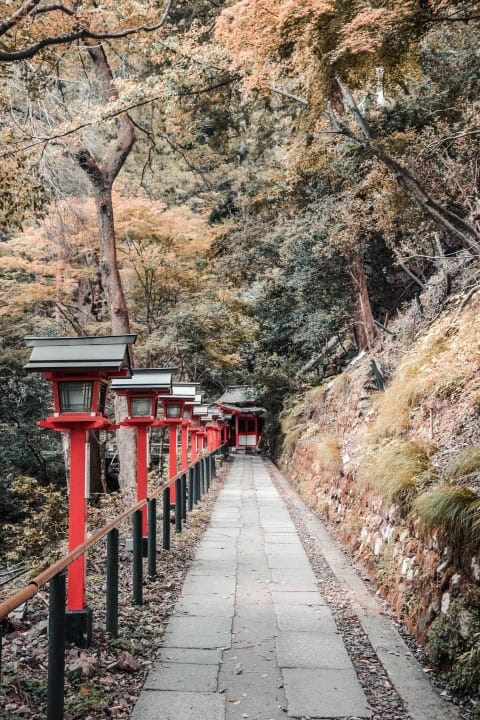 A bit outside north of Kyoto you can get a bit closer to nature while enjoying a number of outstanding Japanese activities. Despite taking up quite a lot of time to visit this area, we think you are going to appreciate fitting it into your 3 days Kyoto itinerary.
Go to Mount Kurama and visit Kurama-dera Temple, offering a long and joyful hike. Start at Kurama station and cross the mountain on foot and partly by cable car.
Before entering the premises of the temple, you can enjoy a quiet little Japanese village and the scenery is just breathtaking. Inside, you get to climb high, walk-in lush forests and take a deep breath of the crisp fresh air.
Here you can also visit the beautiful Kifune Shrine.
Once you get to the other side, you will be hungry enough to be even more excited about some of the best places to eat in Kyoto.
How to Get to Kibune & Mount Kurama from Kyoto?
You can easily get to Kibune from Demachi-Yanagi Station, Kyoto. You'll have to get off either at Kibune-guchi Station or Kurama Station.
The ride will take about 30 minutes and the ticket price is 430 yen. Trains normally depart every 15-20 minutes so you don't have to be on a strict schedule.
3| Try KAWADOKO & Have Lunch Over a River in Kibune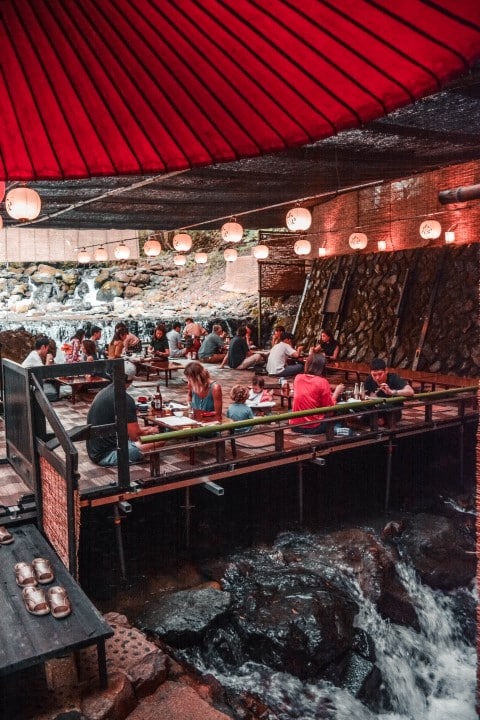 During the summer season, you can try Kawadoko. Summer is special in Kibune because restaurants serve food over the river and under the cool shades of the Kurama mountain. You can have a really nice lunch at one of the restaurants with seatings over the calmly burbling stream and charming waterfalls.
Just imagine the soothing sound of the trickling stream a meter below you, while enjoying a traditional Japanese set meal.
Prices at the restaurants start at around 1500 Yen ($14) per set. 
In case you visit during wintertime you can still enjoy traditional Japanese dishes and a beautiful view in any of these restaurants… just not over the water.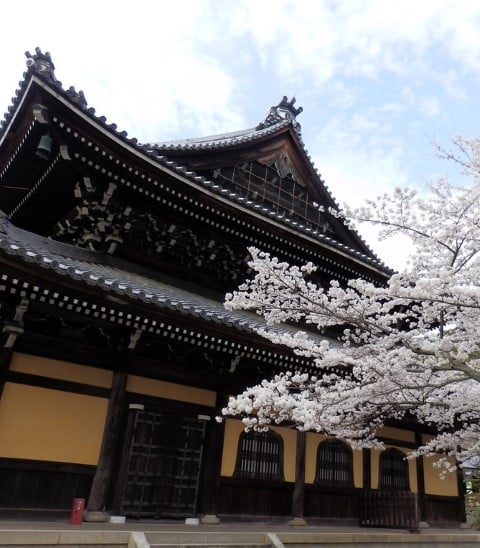 After a nice lunch, it is time to return to the city and visit another Zen gem. This remarkable temple was built over 700 years ago, so it is filled with history and traditions.
Besides getting lost in the beauty of the building and the garden, you can get a good feel of a traditional temple tea ceremony.
If you are looking to find inner peace, visiting Nanzen-ji is definitely one of the best things to do in Kyoto.
1| Have an Onsen Experience AKA Natural Hot Spring Bath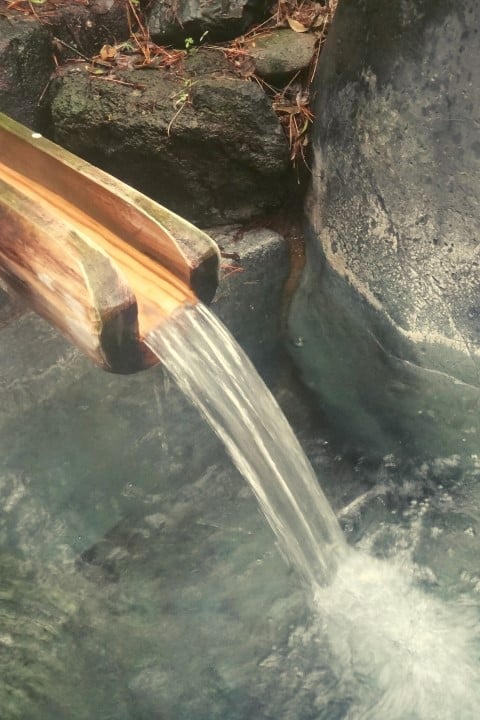 After such a long three days you must be exhausted. Nothing is better than having a relaxing Japanese hot spring bath. Relieve all your aching joints and sore muscles in a nice warm bath.
It is also a great way to experience traditional Japanese activities. Baths have been playing a very important role in Japan for centuries and you can get into one to recharge after completing a really busy 2-3 days Kyoto itinerary.
There are plenty of traditional Ryokans that offer both indoor and outdoor bathing experiences. One of the most beloved ones is Kurama Onsen.
However, if you want real natural hot spring you'll have to visit Tenzan-no-yu Onsen.
Tenzan-no-yu Onsen has natural hot water springing from 1200 meters underground making it a kind of medical treatment because of the hot springs having a variety of positive effects on our body.
Tenzan-no-yu Onsen also has an excellent restaurant which means you don't have to worry about your meals either.