Last Updated on October 17, 2022 by Jella Erhard
17 Best Fantasy books that will give you serious wanderlust
Fantasy is one of our favorite genres because these books help us visit completely unique, new worlds which are filled with magic. Because who doesn't love a good dose of extra magic in their lives? We sure do!
Many of these books are also on our favorites list because they're not only fantastically written but every one of them has a unique world and characters.
We wanted to do a list that includes somewhat lesser-known books so we choose a couple of indie fantasy books as well.
If you're looking to have some laughs check out our Funny books to read for adults post or enjoy some quiet time with one of the best poetry books that you should read if you feel sad or depressed and need some comfort. If you want to read more fantasy books from around the world you should check out our other lists and guides or visit our online book nook to find the most exciting new releases, classics, and lesser-known treasures. As well as unique books about diving, mindfulness and much more to boost creativity and mood.
Hope you find something you'll love and inspire you to travel more!
17 | A Master of Djinn by P. Djèlí Clark | 2021
Story:  
A master of Djinn is an exciting, steampunk historical fantasy book set in Egypt. It's set in an alternate Cairo in 1912 where we follow agent Fatma who has to save the world yet again. While there are two previous books in the series first-time will have no problem understanding the story or the characters.
Fatma works for the Ministry of Alchemy where she has to deal with not only dangerous humans but all sorts of supernatural entities and magic. Together with her girlfriend and colleges they have to figure out who is responsible for the murders and put a stop to it.
What all the wanderfuss is about:
Readers will be immersed in a gorgeous meticulously built Cairo where goblins, djinns, and other magical creatures exist with humans. It's also a fun LGBT+ story where we get to know flawed but human and intriguing characters who make the story much reacher and enjoyable. A Master of Djinn is a perfect read for those who love diverse stories, atmospheric settings, and love to learn more about other cultures through enchanting stories.
16 | The Four Profound Weaves: A Birdverse Book by R.B. Lemberg | 2020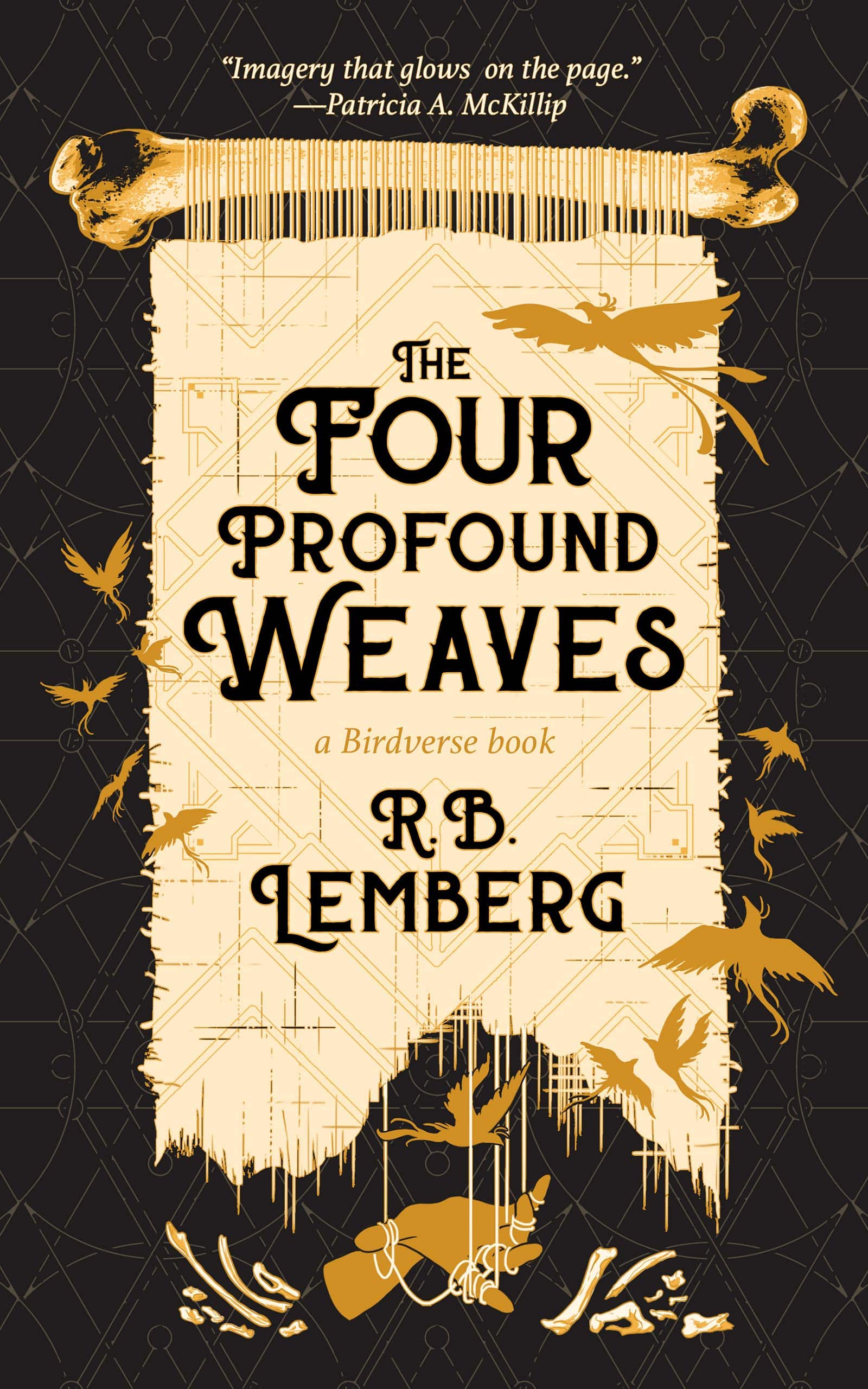 Story:  
The Four Profound Weaves: A Bird Verse Book is
a tragically beautiful and melancholic tale about a nameless man who struggles to become himself after many years of living as a woman.
He embarks on a journey to learn the final weave, weaving from bone.
It's a truly unique story with powerful characters and a writing style that's whimsically dark and fairytale-like.
The Four Profound Weaves is a short but moving and beguiling read about love, death, and hope.
What all the wanderfuss is about:
As the nameless man travels through the desert and visits mysterious cities while accepting and discovering himself and others will inspire and motivate you to do the same.
*I received The Four Profound Weaves: A Bird Verse Book as an ARC in exchange for an honest review. Thank you!
15 | The Night Circus by Erin Morgenstern
Story:  "The circus arrives without warning. No announcements precede it, no paper notices plastered on lampposts and billboards. It is simply there, when yesterday it was not. "
It is called Le Cirque des Rêves (The Circus of Dreams) is only open at night. To the public eyes, it operates as a magical circus but no one suspects that behind the scenes there is real magic and fierce competition between two magicians. Celia and Marco are two magicians who have been trained since childhood and now they have to fight for their lives. 
What all the wanderfuss is about:
As you fall in love with the two competing illusionists Celia and Marko you will also fall in love with all the destinations that the magical circus visits. As the circus travels around the world visiting London, New York, Prague, Paris, you will be enchanted to hop on a train to go where the magic takes you.
Before you can put down the book you'll feel a sudden urge to put on a red scarf and start your journey looking for the Le Cirque des Rêves. The night circus is definitely one of the best fantasy books with magic, mentalism, and romance.
14 | Throne of Glass by Sarah J. Maas
Story:
Celaena Sardothien an 18-year old assassin served many years of hard labor in the salt mines and but one day she's pulled out of prison to become the champion of the Crown Prince Dorian. She could win back her freedom if he becomes the new royal assassin during the competition.
Celaena can't turn down this offer and begins her training with the captain of the guard. While she finds her training challenging and exciting she becomes stiff by court life. However, she soon realizes that not one but two gentlemen are interested in her.
What all the wanderfuss is about:
If you're struggling with solo female travel but you're afraid of it then this book can help you to fight off your demons. Reading it will give you a sudden urge to discover new places and get some adventures crossed off from your bucket list.
This exciting book will give you goosebumps because it's definitely one of the best YA fantasy books with a strong female lead.
13 | Soulless by Gail Carriger
Story:
Alexia Tarabotti lives in an alternate history version of  Victorian-era Britain where werewolves and vampires live amongst people. Alexia is no ordinary human either since she has no soul. This leaves her unaffected by the powers of supernatural beings which only further complicates her life when she accidentally kills a vampire that had attacked her.
What all the wanderfuss is about:
This book will make you want to travel not just England but time as well! Funny, quirky steampunk dream comes alive on the pages of Soulless. Only after a couple of pages in the book, you'll find yourself craving for a good cup of tea and a long walk on the beautiful streets and alleys of London.
Soulless book is definitely one of the most unique fantasy books I have ever read. If you're looking for a great fantasy book with vampires, a kick-ass female lead, and steampunk elements you found what you're looking for.
12| Daughter of Smoke & Bone by Laini Taylor
Story: "Once upon a time, an angel and a devil fell in love. It did not end well."
Around the world, black handprints are appearing on doorways, scorched there by winged strangers who have crept through a slit in the sky. In a dark and dusty shop, a devil's supply of human teeth grows dangerously low. In the tangled lanes of Prague, a young art student is about to be caught up in a brutal otherworldly war.
What all the wanderfuss is about:
Daughter of Smoke and Bone will grab you from the first page and never let you go. It flys you to Prague and shows you all the magic you can discover while walking down the baroque, gothic, and medieval streets. You'll find yourself planning a quick weekend in Prague before you would finish the last pages of the book.
This book is no doubt heavily focuses on romance but it doesn't take away from the excitement and adventure of the story. Daughter of Smoke and Bone is the best fantasy book series with romance you can find on the shelves.
11| The Name of the Wind by Patrick Rothfuss
Story:
Told in Kvothe's own voice, this is the tale of the magically gifted young man who grows to be the most notorious wizard his world has ever seen. The intimate narrative of his childhood in a troupe of traveling players. His years spent as a near-feral orphan in a crime-ridden city.
His daringly brazen yet successful bid to enter a legendary school of magic, and his life as a fugitive after the murder of a king form a gripping coming-of-age story unrivaled in recent literature.
What all the wanderfuss is about:
This book is filled with adventure, magic and exciting life stories and will leave you craving for more of these in your own life as well!
10| Dracula by Bram Stoker
Story:
The novel tells the story of Dracula's attempt to move from Transylvania to England so that he may find new blood and spread the undead curse, and of the battle between Dracula and a small group of men and a woman led by Professor Abraham Van Helsing.
What all the wanderfuss is about:
Everyone heard about Dracula a lot less have actually read the book. This book will leave you wanting to visit spooky castles and small villages and not just to take photos but actually grab a piece of paper and a pen to write about your experiences.
9| Deathless by Catherynne M. Valente
Story:
Koschei the Deathless is to Russian folklore what devils or wicked witches are to European culture: a menacing, evil figure; the villain of countless stories which have been passed on through story and text for generations. But Koschei has never before been seen through the eyes of Catherynne Valente, whose modernized and transformed take on the legend brings the action to modern times, spanning many of the great developments of Russian history in the twentieth century.
Deathless, however, is no dry, historical tome: it lights up like fire as the young Marya Morevna transforms from a clever child of the revolution to Koschei's beautiful bride, to his eventual undoing. Along the way, there are Stalinist house elves, magical quests, secrecy and bureaucracy, and games of lust and power.
All told, Deathless is a collision of magical history and actual history, of revolution and mythology, of love and death, which will bring Russian myth back to life in a stunning new incarnation.
What all the wanderfuss is about:
A unique book and not just because of the story but also because of where it takes place. Eastern Europe and Russia are not part of the most visited countries on earth. However, there are plenty of magic, myth, and folklore you can find in these countries.
8 | The Golem and the Jinni by Helene Wecker
Story:
Chava is a golem, a creature made of clay, brought to life by a disgraced rabbi who dabbles in dark Kabbalistic magic. When her master, the husband who commissioned her, dies at sea on the voyage from Poland, she is unmoored and adrift as the ship arrives in New York in 1899.
Ahmad is a Djinni, a being of fire, born in the ancient Syrian desert. Trapped in an old copper flask by a Bedouin wizard centuries ago, he is released accidentally by a tinsmith in a Lower Manhattan shop. Though he is no longer imprisoned, Ahmad is not entirely free – an unbreakable band of iron binds him to the physical world.
What all the wanderfuss is about:
New York is probably already on your bucket list or you've already been there. But this book will make you want to explore more than just the usual touristy sites. It makes you want to discover hidden places, old quarters, and old tales in this centuries-old famously modern city.
7| The Shadow of the Wind by Carlos Ruiz Zafón
Story:
Barcelona, 1945: A city slowly heals in the aftermath of the Spanish Civil War, and Daniel, an antiquarian book dealer's son who mourns the loss of his mother, finds solace in a mysterious book entitled The Shadow of the Wind, by one Julián Carax.
But when he sets out to find the author's other works, he makes a shocking discovery: someone has been systematically destroying every copy of every book Carax has written. In fact, Daniel may have the last of Carax's books in existence. Soon Daniel's seemingly innocent quest opens a door into one of Barcelona's darkest secrets–an epic story of murder, madness, and doomed love.
What all the wanderfuss is about:
This book takes you to the cobbled streets and alleys of Barcelona and lets you experience the city's unique, otherworldly feel.  This book is an experience that will definitely stay with you and help you to actually go on a trip you only dreamed about.
6| The Invention of Hugo Cabret by Brian Selznick
Story:
Orphan, clock keeper, and thief, Hugo lives in the walls of a busy Paris train station, where his survival depends on secrets and anonymity. But when his world suddenly interlocks with an eccentric, bookish girl and a bitter old man who runs a toy booth in the station, Hugo's undercover life, and his most precious secret, are put in jeopardy.
A cryptic drawing, a treasured notebook, a stolen key, a mechanical man, and a hidden message from Hugo's dead father form the backbone of this intricate, tender, and spellbinding mystery.
What all the wanderfuss is about:
This book is pure magic, satisfying both cinema and book lovers equally. Paris is most people's dream city, a magical, romantic place everyone yearns to visit. This book shows you a significant reason how Paris become Paris. Lets you peek into the world of dreamers and helps you see what so many artists have seen throughout history.
Story:
The novel opens in present-day Paris in a crowded café, where David meets Pandora. She is two thousand years old, a Child of the Millennia, the first vampire ever made by the great Marius. David persuades her to tell the story of her life.
What all the wanderfuss is about:
Imperial Rome, Paris, and New Orleans. This book is a beautiful journey throughout centuries and even though we can't travel back in time we can still visit and experience the magic of these places.
4| American Gods By Neil Gaiman
Story:
Locked behind bars for three years, Shadow did his time, quietly waiting for the day when he could return to Eagle Point, Indiana. A man no longer scared of what tomorrow might bring, all he wanted was to be with Laura, the wife he deeply loved, and start a new life.
But just days before his release, Laura and Shadow's best friend are killed in an accident. With his life in pieces and nothing to keep him tethered, Shadow accepts a job from a beguiling stranger he meets on the way home, an enigmatic man who calls himself Mr. Wednesday and embarks on a journey he could never have imagined.
What all the wanderfuss is about:
American Gods shows you the roots and the diversity of America in a way that not many books, tv shows or movies do. Shadow's stories invite you along for his adventures and will make you want to travel and experience more of the US than Miami, LA, and NY.
3| Akata Witch by Nnedi Okorafor
Story:
Born in New York, but living in Aba, Nigeria, twelve-year-old Sunny is understandably a little lost. She is albino and thus, incredibly sensitive to the sun. All Sunny wants to do is be able to play football and get through another day of school without being bullied.
But once she befriends Orlu and Chichi, Sunny is plunged into the world of the Leopard People, where your worst defect becomes your greatest asset. Together, Sunny, Orlu, Chichi and Sasha form the youngest ever Oha Coven. Their mission is to track down Black Hat Otokoto, the man responsible for kidnapping and maiming children. 
What all the wanderfuss is about:
Magic and reality collide on the pages and takes you to a Nigeria you've never been before. This book will most certainly provide a fresh look at Nigeria and Africa and will make you want to learn and understand more about this beautiful country.
2| Watership Down by Richard Adams
Story:
Set in England's Downs, a once idyllic rural landscape, this stirring tale of adventure, courage, and survival follows a band of very special creatures on their flight from the intrusion of man and the certain destruction of their home.
Led by a stouthearted pair of friends, they journey forth from their native Sandleford Warren through the harrowing trials posed by predators and adversaries, to a mysterious promised land and a more perfect society.
What all the wanderfuss is about:
England's countryside is beautiful and can be adventurous as well! This moralistic tale will make you want to visit more than just London on your visit to the UK. This beautiful fantasy book with animals as its lead will mess with your mind a little but will be one of the most interesting reads of your life.
1| Monkey: The Journey to the West by Wu Cheng'en
Story:
Probably the most popular book in the history of the Far East, this classic sixteenth-century novel is a combination of picaresque novel and folk epic that mixes satire, allegory, and history into a rollicking adventure.
It is the story of the roguish Monkey and his encounters with major and minor spirits, gods, demigods, demons, ogres, monsters, and fairies.
What all the wanderfuss is about:
This Chinese classic will help you understand more of the country's culture and religion and it does so in a funny, adventurous way. This book will make you want to leave the big cities of Beijing or Shanghai for the ancient villages and temples in China's countryside.
What was the book that gave you wanderlust?